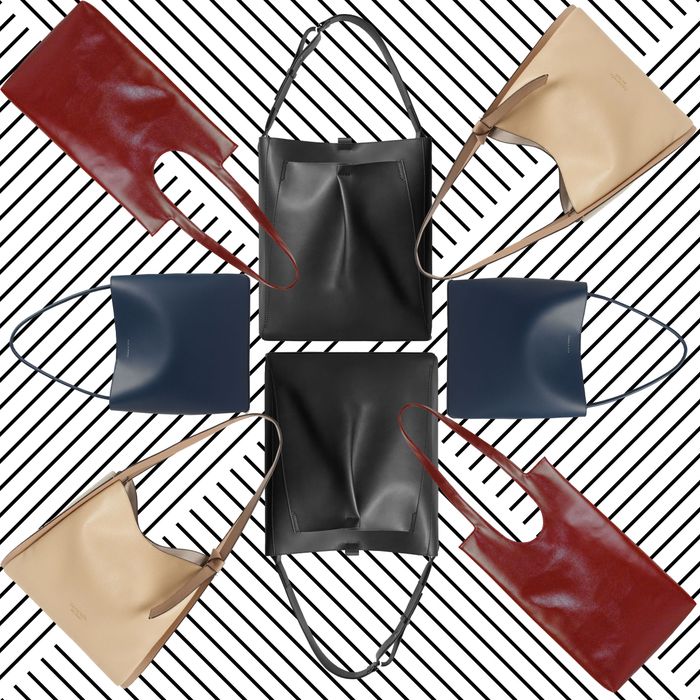 Photo-Illustration: Courtesy of the Retailer
For more of the Cut's favorite fashion, beauty, and home finds, sign up for the weekly Cut Shop Newsletter.
For those going back to the office after literal years, gather 'round: We found some of the best work bags to bring along with you. You didn't need a hefty tote when you were "commuting" from, say, your bed to your kitchen table, but you might need one now that you're lugging your laptop, chargers, lunch, extra shoes, and multiple lip balms.
.

What type of bag is best for work?
Glad you asked. Totes, shoulder bags, and backpacks are all options, but if you're more of a minimal person, you can go with a smaller crossbody. Just like the best dresses, it must have pockets and come in a color that would either go with all of your clothing or clash pleasingly with everything you own. And, of course, it has to be non-hideous. Plus, durable materials like leather and nylon are preferable since it'll get a lot of use.
Meeting all these criteria without completely draining your reserves seems borderline impossible, but we found a lot of nice-looking, practical options under $300. Below are 24 of the best work bags for schlepping, hauling, transporting, etc. all your stuff to and fro.
The Must-Have Accessory
Yes, your accessories need accessories. If you frequently change your bags because you've decided that any bag can become a work bag, this insert will make your life easier and will add storage space that even the roomiest totes don't have.
A Classic Black Bag
Photo: Courtesy of the Retailer
You can't go wrong with a basic black tote that's big enough to fit everything from your laptop to a change of shoes.
The Bag That Made Us Do a Double-Take
Your eyes are not deceiving you: This really does cost only $19. It just looks much more expensive because of the understated design and pretty light blue hue.
For Phoebe Philo Fans
And if you were into Philo's bucket bag, here's a similar version that's under $100.
If You Want Something Slightly Trendy
With plenty of compartments, you'll be able to find your keys and wallet quickly. And the line of studs up the side keep it from feeling too dull.
For Madewell Fans
The brand's aptly named Transport tote is a perennial favorite and for good reason — it's soft, lightweight, and looks just as good after years of wear and tear.
If You Love Everlane
Photo: Courtesy of the Retailer
If You Want Something Small, But Not Too Small
Reviewers say this compact bag has a surprisingly large interior — you can easily fit an iPad mini, your wallet, and even a small water bottle.
If You Need a Big Bag
This can fold down into the tiniest zip pouch, but when you take it out, boy, does it really expand. You can fit everything from extra clothes, sneakers, your laptop, and quite possibly your medium-size Labradoodle if your office is dog friendly. It's also made of durable nylon and has interior pockets to keep you organized.
The Everyday Tote
Photo: Courtesy of the Retailer
The best of both worlds: the luxury of a designer tote, without breaking the bank. And this one doubles as the perfect travel carry-on when you take your PTO.
If You Prefer a Cross-Body
Photo: Courtesy of the Retailer
Reviewers rave about how, despite looking so compact from the outside, this bag is surprisingly spacious.
If You're Picky About Leather
Fossil is known for its soft and luxurious leather.
The Pebbled Leather Style
This leather tote is less stiff than others thanks to the pebbled texture. It also expands like an accordion, so you can fill it with a Mary Poppins's amount of stuff.
The Classic Tote
In case you don't need another black bag, this classic silhouette is available in two shades that are understated enough to wear with everything. The tote features a few cool accents, like the lock hardware, so it's not too plain.
The Artsy One
Practical doesn't have to be boring. If you prefer prints, this plaid carryall is the one for you. It also has an interior pouch and folds completely flat for travel.
The One That Just Looks Expensive
The thin double handles make this one sleek tote. Plus, the magnetic closure is secure yet easy to open, so you can access your things a little less haphazardly.
A Stylish Backpack
Photo: Courtesy of the Retailer
If you're lugging a laptop and gym clothes and want to relieve the load on your back, try a grown-up looking backpack.
The Surprisingly Affordable One
At just under $50, this bag has lots of space and zippered compartments for storing everything you need. Reviewers also note that you can fit a 13-inch laptop and a few extra essentials.
The Recycled Option
This very cool tote from Ganni features an adjustable strap so you can make it a crossbody bag.
The One You'll Use on Weekends Too
Durable and waterproof, this tote is the perfect size for all your essentials during the work week and everything you might need on the weekends too. You don't have to worry about forgetting your shopping bags during your next farmers' market run.
The Shiny Option
Available in four different colors, this shiny, boxy bag has a vintage look. Not only does it fit your laptop, but there's also space on the outside to secure your yoga mat for post-work classes. Remember those?
The Trendy Buy
Photo: Courtesy of the Retailer
The Vegan Leather Option
Made of cactus fibers, this vegan-leather tote is made to order and with New Yorkers in mind. The bag will comfortably fit your laptop and other work necessities while hopefully not sliding off your shoulder on the subway.
For After-Work Happy-Hour Plans
This two-in-one bag has a removable pouch you can take out for your nighttime plans, and is ideal for those who prefer a top handle bag that'll go with every outfit.