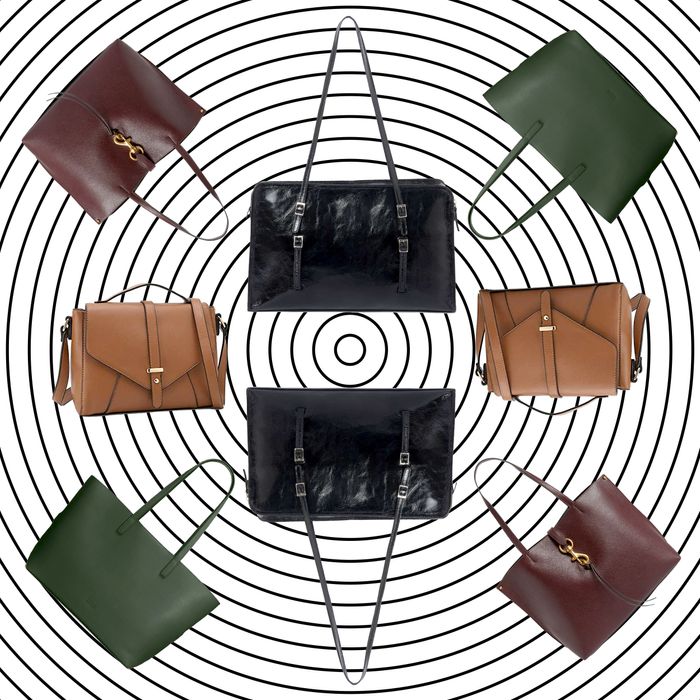 Photo-Illustration: Courtesy of the Retailer
The two years working from home has meant the only accessory we've needed has been a little Zoom makeup (if even that), but as we ease our way back into the office (at least, some of us, some of the time, for now), it's time to scout work for the best work bags again.
It's been a while, so here's a reminder of what makes a good qualifier: Just like the best dresses, it must have pockets, be big enough for a day's worth of stuff, and come in a color that would either go with all of your clothing or clash pleasingly with everything you own. And, of course, it has to be non-hideous. At $100, this turns out to be borderline impossible, but with a $250 budget, we found a lot of nice-looking, practical options, which is great, because while the Cut loves a truly beautiful luxury handbag, we also believe style should be accessible to everyone.
The Must-Have Accessory
Yes, your accessories need accessories. If you frequently change your bags because you've decided that any bag can become a work bag, this insert will make your life easier and will add storage space that even the roomiest totes don't have.
The Vegan Leather Option
Made of cactus fibers, this vegan-leather tote is made to order and with New Yorkers in mind. The bag will comfortably fit your laptop and other work necessities while hopefully not sliding off your shoulder on the subway.
The Very Good Deal
This pebbled-leather carryall with plenty of compartments for all your essentials is usually $350, but you can grab it for half off.
The Recycled Option
This very cool tote from Ganni features an adjustable strap so you can make it a crossbody bag.
The Classic Tote
In case you don't need another black bag, this classic silhouette is available in two shades that are understated enough to wear with everything. The tote features a few cool accents, like the lock hardware, so it's not too plain.
The Surprisingly Affordable One
At just under $50, this bag has lots of space and zippered compartments for storing everything you need. Reviewers also note that you can fit a 13-inch laptop and a few extra essentials.
The One You'll Use on Weekends Too
Durable and waterproof, this tote is the perfect size for all your essentials during the work week and everything you might need on the weekends too. You don't have to worry about forgetting your shopping bags during your next farmers' market run.
The Shiny Option
Available in five different colors, this shiny, boxy bag has a vintage look. Not only does it fit your laptop, but there's also space on the outside to secure your yoga mat for post-work classes. Remember those?
The One That Just Looks Expensive
With a structured silhouette and a soft touch, this tote gets plenty of compliments and makes the perfect everyday bag. It also comes with a matching detachable inner bag where you can store your keys, wallet, and makeup.
The Bag That Made Us Do a Double-Take
Your eyes are not deceiving you: This really does cost only $19. It just looks much more expensive because of the understated design and pretty light blue hue.
If You Want Something Small, But Not Too Small
Reviewers say this compact bag has a surprisingly large interior — you can easily fit an iPad mini, your wallet, and even a small water bottle.
If You're Picky About Leather
Reviewers love how soft and luxurious this handbag feels.
A Classic Black Bag
Photo: Courtesy of the Retailer
You can't go wrong with a basic black tote that's big enough to fit everything from your laptop to a change of shoes.
If You Want Something Slightly Trendy
With plenty of compartments, you'll be able to find your keys and wallet quickly. And the line of studs up the side keep it from feeling too dull.
If You Love Everlane
Photo: Courtesy of the Retailer
The Artsy One
Practical doesn't have to equal boring. If you prefer texture and some extra detail, this is the one for you.
A Stylish Backpack
Photo: Courtesy of the Retailer
If you're lugging a laptop and gym clothes and want to relieve the load on your back, try a grown-up looking backpack.
If You Need a Big Bag
Measuring at 11.4 inches wide by 14 inches high by 5.7 inches deep, this has more than enough room for everything you're carrying around. Worried about losing your stuff? Add some pouches for organization.
The Trendy Buy
Photo: Courtesy of the Retailer
Getting your hands on a Telfar bag is practically a part-time job because of how quickly they sell out, but once you do, you'll want every single color.
For Madewell Fans
The brand's aptly named Transport tote is a perennial favorite and for good reason — it's soft, lightweight, and looks just as good after years of wear and tear.
For Phoebe Philo Fans
Photo: Courtesy of the Retailer
And if you were into Philo's bucket bag, here's a similar version that's under $100.
The Everyday Tote
Photo: Courtesy of the Retailer
The best of both worlds: the luxury of a designer tote, without breaking the bank. And this one doubles as the perfect travel carry-on when you take your PTO.
If You Prefer a Cross-Body
Photo: Courtesy of the Retailer
Reviewers rave about how, despite looking so compact from the outside, this bag is surprisingly spacious.
For After-Work Happy-Hour Plans
Photo: Courtesy of the Retailer/NMO PHOTO
This two-in-one bag has a removable pouch you can take out for your nighttime plans, and the clear design should help if you lose things easily (as long as you're okay with everyone else seeing your stuff, too).
If you buy something through our links, New York may earn an affiliate commission.