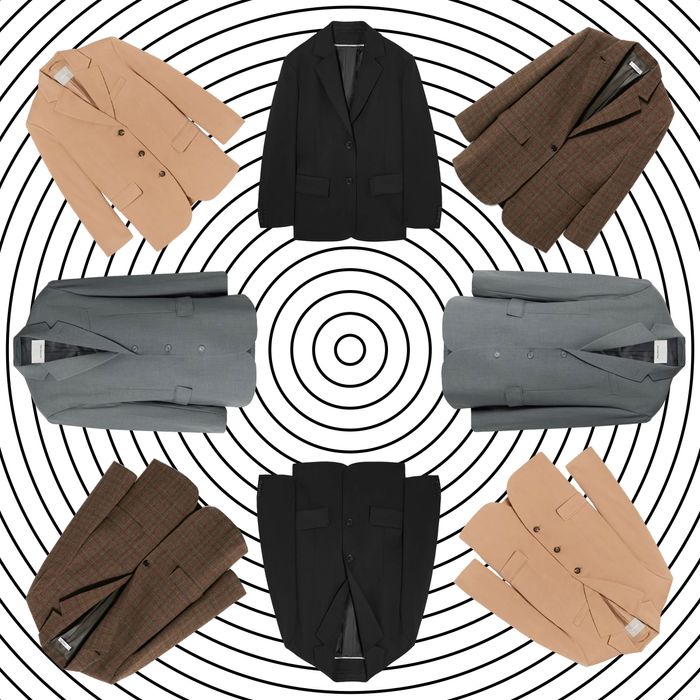 Photo-Illustration: The Cut
A good blazer makes you look as put together as Emmanuelle Alt, even if you're just wearing it with Converse and a T-shirt. It also makes for a great transitional-weather garment when you've forgotten what 50 degrees feels like. Plus, if you're going back to an office, you would probably want to wear at least one a week, so why not make it fun?
To make your life easier, we've rounded up 17 great blazers you can wear through the fall.
If You Love Everlane
Of course the place where you get your underwear, boots, jeans, and cashmere sweaters also happens to offer a pretty fantastic blazer. I own this piece in black and love to layer it under my trench coats and oversize wool coats during the winter.
If You Wear Only Black
COS is a great stop when you're looking for a quality blazer. I must say the brand's sizing is a bit off, so do read the product description before purchasing or size up.
If You Want a Break From Black
If I were scrolling mindlessly through this roundup and didn't see the buy button, I would not know this blazer is from Amazon. And apparently, once you buy it, reviewers say, you wouldn't know either. It fits well and doesn't look like you purchased it from Bezos.com.
If You Want Something Fun
If you're over oversize clothing, consider this corset blazer from Eloquii. It will double as a great going-out top for the fall.
If You Want to Be Ahead of the Curve
Quilted coats and blazers will be everywhere this year. They're the updated versions of Army-jacket liners. (But if you want to stick to those, they are under $100 on Etsy.)
If You Want an Hourglass Silhouette
This Acne Studios blazer is giving drama, and we're here for it. If you have almost $1K to spend, it's a strong contender.
If You Love a Preppy Look
Don't sleep on the Target brand A New Day. It has great slip dresses and blazers.
If You Want a Designer One
Tibi is workwear royalty, and this blazer will elevate any outfit. When a friend of mine told me she got the whole suit, I was definitely influenced.
If You Want a Designer One on Sale
We will never not plug the Outnet. Designer finds for 60 percent off? It's always a great site to start your search with and really decide which items you want to invest in.
Another Great Discounted Option
For under $400, this 100 percent sheepskin blazer is great for anyone searching for a good leather-jacket alternative.
If You Can't Decide Which Blazer You Want
A bit preppy with a bit of menswear, this option from Steve Madden has the best of both worlds and is under $100.
If You Want a Solid Under-$90 Option
If You Want an Oversize Option
Made with 52 percent wool, this oversize option from & Other Stories will keep you warm and is extra roomy so you can wear a chunky sweater under it.
If You Want a Good Basic
The tailored silhouette of this blazer makes it the ideal piece to have in your capsule wardrobe. You'll wear it well after fall is over and get your money's worth per wear.
If Menswear Is Life
Your best bet for a good men's blazer is always a thrift store, but if you don't have the patience to scout the one for you, the Frankie Shop has great vintage-inspired ones (but they won't be as cheap).
If You Get Cold Easily
This virgin-wool blazer from Sandro will do its best to keep you warm while still looking effortlessly stylish. The wool makes it warmer for the cold months and lets this blazer keep its structured look.
If You're a Horse Girl
Just imagine how good this blazer will look with your black leggings and knee-high boots. Mango has great options at good price points.
If you buy something through our links, New York may earn an affiliate commission.