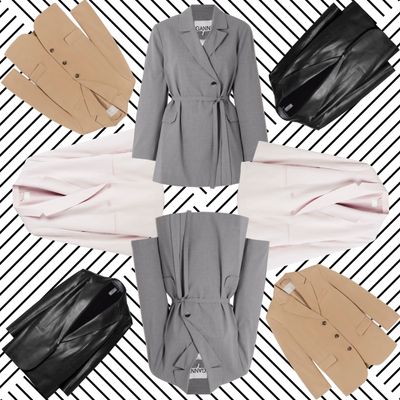 Photo-Illustration: by The Cut; Photos: Retailers
For more of the Cut's favorite fashion, beauty, and home finds, sign up for the weekly Cut Shop Newsletter.
A good blazer makes you look as put together as Emmanuelle Alt, even if you're just wearing it with Converse and a T-shirt. It also makes for a great transitional-weather garment when you've forgotten what 50 degrees feels like. Plus, if you're going back to an office, you would probably want to wear at least one a week, so why not make it fun?
What makes a good blazer?
Besides price point, our criteria for picking blazers is pretty simple. First things first: How does it fit? A good blazer should fit well whether it's cinched or oversize. We're also looking for versatility, especially if you're going to splurge on something you'll want to wear more than once.
To make your life easier, we've rounded up 20 great blazers you can wear through the fall and winter.
If You Love a Preppy Look
Don't sleep on the Target brand A New Day. It has great slip dresses and blazers.
If You Want a Break From Black
If you were scrolling mindlessly through this roundup and didn't see the buy button, you would not know this blazer is from Amazon. And apparently, once you buy it, reviewers say, you wouldn't know either. It fits well and doesn't look like you purchased it from Bezos.com.
If You Want Color Options
This one has six. Ranging from neutrals to brights, this slightly oversize blazer is ideal for dressing up or pairing with denim. Plus, it's under $50.
If You Want a Good Basic
The tailored silhouette of this blazer makes it the ideal piece to have in your capsule wardrobe. You'll wear it well after fall is over and get your money's worth per wear.
If You Want a Solid Under-$90 Option
If You Can't Decide Which Blazer You Want
There are a lot of patterns out there, but you don't have to settle on one. This blazer mixes houndstooth and plaid in a way that's cool and not overwhelming.
If You Love Everlane
Of course the place where you get your underwear, boots, jeans, and cashmere sweaters also happens to offer a pretty fantastic blazer. Our senior shopping editor Bianca Nieves, owns this piece in black and loves to layer it under trench coats and oversize wool coats during the winter.
If You Want a Classic
COS is a great stop when you're looking for a quality blazer. Do take note that the brand's sizing is a bit off, so be sure read the product description before purchasing or size up to play it safe.
If You Want Something Fun
Colorful and pink but not too pink, this oversize blazer is an easy way to swap up your neutral go-tos without looking like a Mattel doll.
If You Want to Channel Cher Horowitz
All you need is a matching skirt (and they have it). This is cute and simple without looking too much like a Halloween costume. (But you can totally use the set for that, too.)
If You Want a Designer One
If you want something a little more fitted, this very discounted Proenza blazer cinches at the waist and flatters while still being work appropriate.
Or Another Designer Option
Discounted Bottega! It is final sale but worth the splurge.
If You Want to Make a Statement
Sizing is limited, but if you're one of the lucky few with sizes left we recommend splurging on this embellished blazer that will garner more than a few compliments from your colleagues.
If You Want a Belted Option
This look can easily be relaxed and oversize or form-flattering and cinched at the waist with some creative styling.
If You Want an Oversize Option
Slightly oversize without being too boxy, this relaxed blazer will be one you will use religiously.
If You Want Faux Leather
If you can't give up your leather jackets, this blazer is somewhere in the middle. Outside of the office, it is perfect for layering over dresses and skirts for nights out.
If You Want Something Cropped
We're sure this could be work-appropriate with a few extra layers but we think this works just as well OOO paired with miniskirts or denim.
If You Want Something Vetted
This viral and Cut Shop–approved brand is a favorite. It's oversize, sustainable, and made to work with your whole wardrobe.
If You Want Something Versatile
Get creative with the tie-waist belt or don't wear it at all. Either way, it looks good.
If You Want to Avoid Wrinkles
Maybe your job requires traveling and shoving all your outfits into a carry-on or you just hate steaming; this blazer is made of wrinkle-resistant material so you don't ever have to worry or iron.