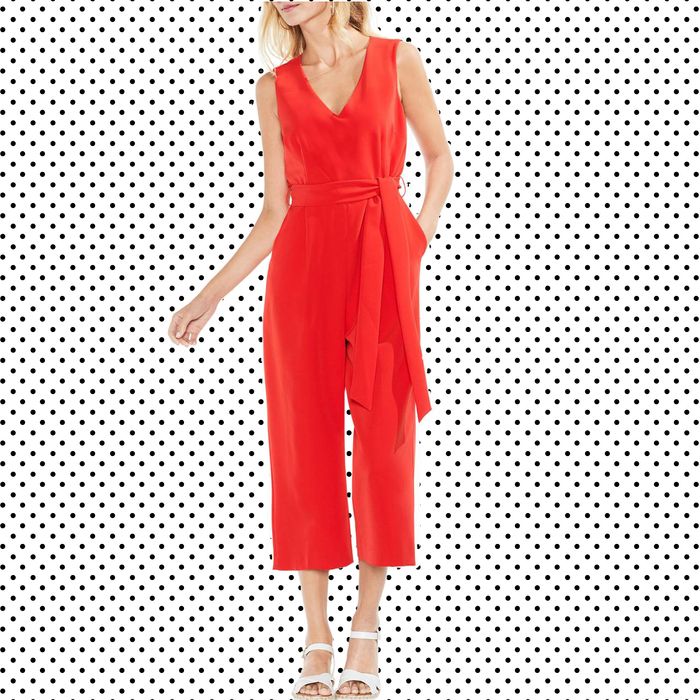 Getting dressed for work shouldn't be a bore. Welcome to Business Casual — here to make your weekdays easier.
The stylish, successful women we feature in our In Her Shoes series might work in different industries, but they all have one thing in common: they love a good jumpsuit for the office. And that's not surprising! We've been saying for years that a jumpsuit is the perfect solution on those mornings when you can't figure out what to wear. It has all the simplicity of a dress, but it feels cooler and fresher. With that in mind, scroll ahead to shop 17 favorites that work for nearly every office environment.
Light and spring-ready, especially when you add in some colorful sandals.
At first glance, this looks like it would be for the advanced jumpsuit wearer only. But once you think of it as a floral dress with legs, it gets a lot easier to style. Just add sandals and you're good to go.
In classic black, it couldn't be easier.
If You're Into Japanese Design
For the Pleats Please Issey Miyake lover who just can't justify paying for the original.
During the weekend, this is a fun going-out jumpsuit. And once the workweek comes around, you can just add a camisole to make the deep V-neck office-appropriate.
If You Like the Idea of a Suit (But Your Office Is Pretty Casual)
Take a cue from the way Need Supply styled this pin-striped jumpsuit and add a white shirt. It's like a suit, except way cooler.
Get this hemmed to just above your ankles and it'll be particularly flattering, especially if you skip the clunky boots.
If You Just Want to Be Comfortable
Made from soft cotton, it's almost as good as wearing pajamas to the office.
This looks especially polished with heels and earrings — good for those big meeting days.
When You Want to Make a Statement
Fiery red does all the work for you.
If You're Interviewing for a Creative Job
Worn with heels, this will show off your personality without being too over-the-top.
The One for Conservative Offices
Layer this under a blazer and you're good to go. Red too much for your office? It also comes in black.
Delicate dots and a tiny ruffle are sweet touches that'll make you feel good all day long.
The One for Uniform Dressing
Simply swap out your blouses and you have a jumpsuit that you can wear like a suit.
This bright print is the happiest way to embrace spring.
The Best One for Minimalists
It's exceedingly simple, and that's precisely the point. Look insanely chic without any extras.
Because You Love Isabel Marant
Everyone's favorite cool French label, on deep discount.
If you buy something through our links, New York may earn an affiliate commission.