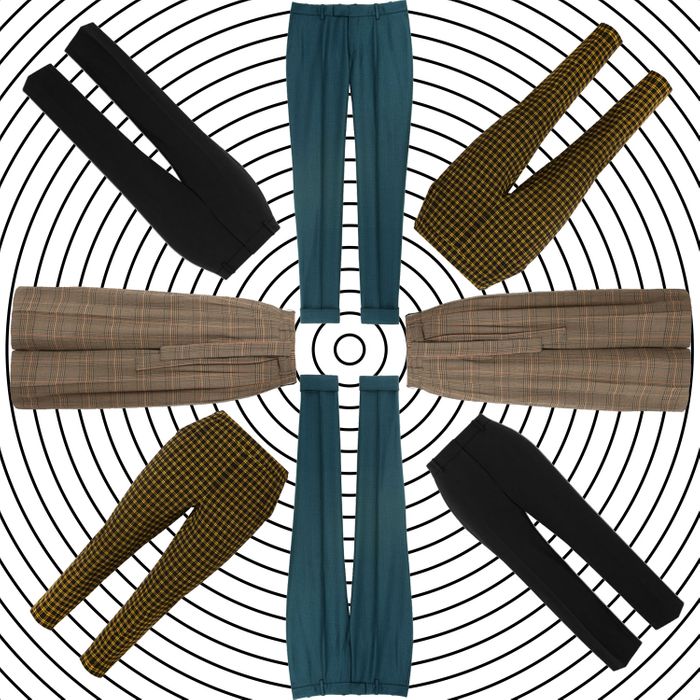 Photo: Courtesy of the Retailers
The phrase "work pants" implies the existence of other, more fun nonwork pants. But the best work pants are the ones that you'd want to wear even on the days when you're not at the office. They should make you feel like your best self — a person with good judgment, both pants-wise and, you know, professionally. And they should be comfortable, so that you're not distracted and can get things done. With that in mind, we found 16 pairs of work pants that may just transcend the genre's bad reputation.
A Classic Pair of Work Pants for Women
Gray, high-waisted, slightly cropped: These are the platonic ideal of work pants.
Available in sizes 00-16.
The Utilitarian Work Pants
A bit more casual than a something you'd see as part of a suit, these would be cute with a T-shirt and sneakers in off-hours.
Available in sizes 16-24.
If You Like Your Work Pants Flowy
Everyone is wearing slouchy suits these days, so why not. Be warned: These run a little large.
Available in sizes 2-12.
If You Need Work Pants to Go With Your Blazer
A classic pant at a reasonable price that will match most black (or not black!) blazers in your closet.
Available in sizes 14-28.
If You Want to Sneak in an Elastic Waistband
At first glance (and second, and third) these are standard-issue camel-colored tapered pants. You'll be the only one who can tell they have a comfy elastic waistband up top.
Available in sizes XS-XL.
The Work Pants That Are Blue But Not Navy
This gray-blue shade is different enough from gray or navy that your co-workers will have no choice but to compliment you on your pants.
Available in sizes 00-16.
The Cropped Work Pants
This classic cigarette pant is slightly more cropped than other pairs on this list, giving it a modern twist.
Available in sizes FR 34-42.
The Sustainable Work Pants
If you want the pants you wear three times a week to be made of something better for the planet, try these slouchy trousers. They're made with Tencel, a more sustainable viscose.
Available in sizes 1X-3X.
The Trendy Work Pants
Somewhere out there, an influencer is planning on wearing a pair of pants just likes these to Fashion Week next month.
Available in sizes 2UK-18UK.
The Eye-Catching Work Pants
The Flannel Work Pants
Stylish, eye-catching, and warm enough to wear on extra-cold days.
Available in sizes 34-40.
The Vintage-Inspired Work Pants
For less conservative offices, these vintage-esque animal-print pants from Reformation are a fun change from basic black.
Available in sizes 14-24.
The Wool Work Pants
Mid-rise wool trousers in a deep-bluey green will get you through the winter.
Available in sizes 00-14.
If You Aren't Afraid of Color
Red pants make a statement, and the color is easier to match than you may think.
Available in sizes 0-12.
The French Girl Work Pants
Isabel Marant is the patron saint of French girls who aren't afraid to experiment a little bit. These pants have some of that relaxed, cool quality without being a risk.
Available in sizes FR34-FR44.
The Cool Plaid Work Pants
If you're tired of normal plaid patterns, a hint of acidic yellow should excite you.
Available in sizes 12-20.
If you buy something through our links, New York may earn an affiliate commission.