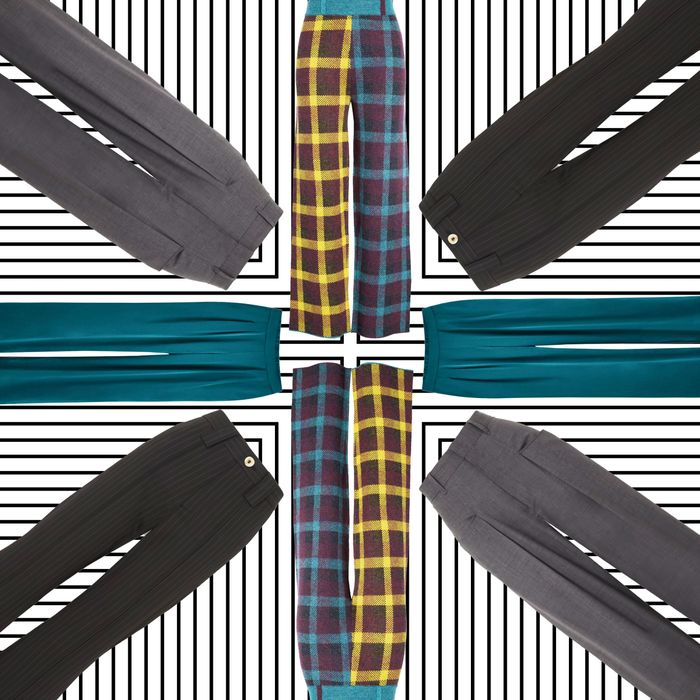 Photo-Illustration: by The Cut; Photos: Retailers
The term work pants implies the existence of other, more fun, nonwork pants, which only two years ago meant anything with an elastic waist. The very idea of work pants was thrown completely out the window for the WFH set, but now that many of us are back in offices and the loungewear boom isn't what it once was (RIP, Entireworld, gone but not forgotten), we are somewhat begrudgingly bringing them back. But just because some of us have to dress like responsible human beings again, that doesn't mean you can't also be comfortable.
What makes a good work pant?
Work pants should make you feel like your best self: A person with good judgment, both pants-wise and, you know, professionally. You should be comfortable sitting down in them for longer periods of time.
With all this in mind, we found 19 pairs of work pants in all kinds of silhouettes, colors, and with varying amounts of stretch that may just transcend the genre's bad reputation.
The High-Waisted Work Pant
If you like sustainability and super-high-waisted pants look no further. Balance out the way-high waist with the draped wide-leg silhouette that looks just as good with heels as it does with pants.
Available in sizes 00 to 16.
The Fancy (But Washable) Work Pant
Silk charmeuse looks beautiful and all, but are you really the type of person who enjoys dry-cleaning things? A rhetorical question, obviously. These washable pants are your answer.
Available in sizes XS to XL. 
If You Want to Sneak in an Elastic Waistband
At first glance (and second, and third) these are standard-issue camel-colored tapered pants. You'll be the only one who can tell they have a comfy elastic waistband up top.
Available in sizes XS-XL.
The Sweatpants of Work Pants
If you're not ready to give up your WFH sweats, these work pants with an elastic waistband are the next best thing.
Available in sizes 0 to 18.
The New Neutral Work Pant
Before you add another pair of black pants to your wardrobe consider a brown shade that's just as versatile.
Available in sizes 0 to 12.
The Cropped Work Pant
Cropped with a fun flare, you can pair these with your favorite boots or sneakers.
Available in sizes 0 to 22.
The Height Inclusive Work Pant
These stretchy pants are available in tall and petite, so they're always the perfect length.
Available in sizes 00 to 24 and petite and tall and select sizes.
The Classic Plaid
Plaid is a staple in the office, but these tailored "Mason" pants have a sleek high-waisted silhouette, roomy pant legs, and pleats that strike the perfect balance between effortless and stylish.
Available in sizes 0 to 12. 
If You Need Work Pants to Go With Your Blazer
A classic pant at a reasonable price that will match most black (or not black!) blazers in your closet.
Available in sizes 14 to 28.
If You're Not Afraid of Color
Take a note from Valentino with these wide-leg trousers.
Available in sizes 0 to 20. 
The Subtly Stretchy Work Pant
The look of luxe satin with a comfortable stretch construction? Groundbreaking.
Available in sizes 2 to 14. 
The Eye-Catching Work Pant
Why wear one color when you can wear two?
Available in sizes 14 to 28.
The Menswear-Inspired Work Pant
High-waisted with subtle pleats and plaid, these trousers look like a coveted vintage find.
Available in sizes XS to XL.
The French Girl Work Pants
Isabel Marant is the patron saint of French girls who aren't afraid to experiment a little bit. These pants have some of that cool quality without being a risk.
Available is sizes 2 to 12.
The Relaxed Fit Work Pants
A boxy but cool pair of work pants you can wear with an oversize blazer or relaxed tees.
Available in sizes XS to L.
The Everyday Work Pant
Draped, high-waisted pants that come in every work-ready color possible and are available in short and tall.
Available in sizes 00 to 16.
The Work Pant Made for Creatives
Whether you work in a gallery or just want to pretend, these knit flare checkered pants will spice up your wardrobe without violating dress codes.
Available in sizes 00 to 16. 
The Pinstripe Work Pant
The cuffed hem, stacked buttons, and pleats ooze sophistication, but the wool fabric is comfortable for chilly fall and winter temperatures.
Available in sizes 0 to 18.
The Plain Fancy Work Pant
The metallic embroidery on these purple jacquard pants is downright gorgeous — and will coordinate with your post-work glass of Cabernet.
Available in sizes 2 to 8.
If you buy something through our links, New York may earn an affiliate commission.