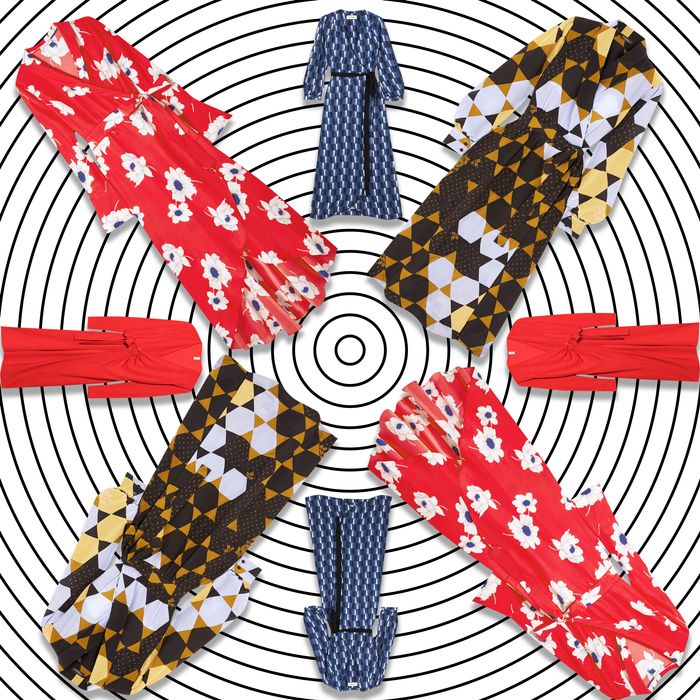 Photo: Courtesy of the Retailers
When you think of truly classic articles of clothing, the first few things that come to mind are a crisp white shirt, a well-tailored blazer, and a pair of great jeans. What else should be on that list? A wrap dress. The design has been around as a stylish option for busy women since the start of the 20th century, but it really became popular due to Diane von Furstenberg's signature jersey designs. Those remain a wardrobe staple, but plenty of designers have their own variations that range from classic to trendy.
It's easy to see why wrap dresses remain a favorite, especially for work. They're especially helpful on days when you need to look extra polished, like say a big meeting or interview. Wear one over knee-high boots or with pumps, and you don't have to do much else to look your best. So whether you want a sleek black style you can wear for years to come or you're looking for a fun print, here are 25 of our current favorites.
If You Want a Non-Boring Black Wrap Dress
Black dresses are closet security blankets — throw one on and feel swaddled by the knowledge that there's very little you can do to mess your outfit up. But you also don't need a closet full of them. Venture out a bit and try something with a bit of pattern, or even go edgy with a faux leather option. And if you already have a similar one, take a styling cue from below and layer it over a white shirt or turtleneck for those extra-chilly days.
Available in sizes 16W–18W.
Available in sizes 18–28.
If You Want a Classic Wrap Dress
So your office style tends to err on the conservative side? A solid-colored option is your best bet. You can't go wrong with black, but if that feels too depressing for long winter days, green has emerged as a popular color trend both in muted teal and vibrant grass shades. If you're in the mood for something even brighter, red is always a power color. And should you want something muted and cozy, Diane von Furstenberg makes a delicious cashmere wrap dress that feels like wearing work-appropriate bathrobe.
Available in sizes 1X–3X.
Available in sizes 1X–5X.
If You Want a Floral Wrap Dress
You don't have to give up summery prints now that it's cold outside. The easiest way to wear them is to choose ones with a dark background, especially in an autumnal hue like mustard, brown, or forest green. Of course, if you're not ready to let go of warm-weather dressing, No. 6 and Equipment both offer brighter versions. Just add a layer to transition them between seasons.
Available in sizes 14–24.
Available in sizes 1X–4X.
Available in sizes 16–24.
Available in sizes XS–XL.
Available in sizes 14–18.
Available in sizes XS–XXL.
If You Don't Want a Floral Wrap Dress
So you're in the market for a fun pattern but petals aren't your speed? Try a menswear-inspired pinstripe, retro '70s graphics, or maybe even of-the-moment scarf prints. If you're looking for something that conveys power yet creativity, try Cefinn, a brand by Samantha Cameron (the wife of former British prime minister David Cameron) — their navy dress fits the bill perfectly. Should you want something street style-inspired, Ganni's emerged as a favorite and their gingham dress is especially good for a casual office with white sneakers.
Available in sizes 16–28.
Available in sizes XS–XL.
Available in sizes 14–22.
Available in sizes 0X–1X.
If you buy something through our links, New York may earn an affiliate commission.