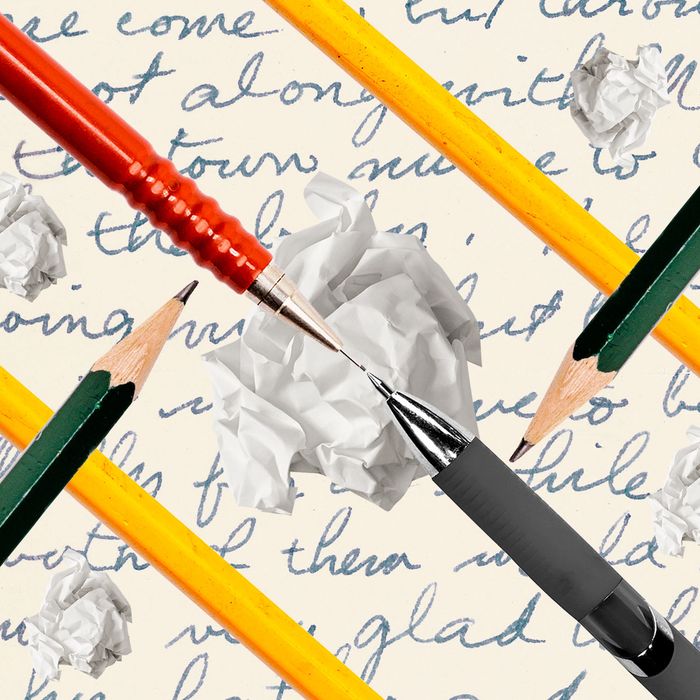 Photo-Illustration: by Preeti Kinha; Photos: Getty Images
This article was featured in One Great Story, New York's reading recommendation newsletter. Sign up here to get it nightly.
What do you do if you think the document you've been working on maybe, just maybe, might possibly be a book? There's no one-size-fits-all answer, but for some writers, the next step is to look for a literary agent who will work to sell your manuscript to a publishing house and help guide your career from a business standpoint (typically for a fee of 15 percent). Below, eight writers explain how they connected with their literary agent.
Rachel Khong
After I'd finished my novel to the point where I didn't know how to revise it further myself, I started looking in the back of a lot of books that I liked, at the agents they thanked in the acknowledgements. And I think I had seen somewhere that you should get a subscription to Publishers Marketplace, so I looked there, too. Then I reached out to the agents of writers I admired, and I got a few rejections and some nonanswers. One person I emailed was PJ Mark, an agent at Janklow & Nesbit, who represents a lot of people I really admire.
I didn't hear back from him, but I heard back from Marya Spence, who was at that agency as well. She had been PJ's assistant for a long time, and she told me she was striking out on her own as an agent. PJ had passed along my email, and she read the manuscript and really loved it and wanted to work with me. Marya was really just starting out; I don't think she had much of a list, or any list, at that point. But she had worked with a lot of great people alongside PJ. So we talked, and she gave me notes on what she thought the book needed and was just so warm and enthusiastic that we agreed to work together. It turned out to be a really great decision — she had a lot of experience, but because she was just starting out on her own as an agent, she had a lot of energy to put behind my book.
Brit Bennett
I was in my M.F.A. program at Michigan, where I'd only really applied because I was graduating with an English degree and didn't really know what to do with that. So I applied to Michigan and went there, and while I was there, I ended up writing an essay for Jezebel that got published and made some noise. My agent happened to read it during her lunch break.
That was how we got connected — a lot of good fortune, I think, on my end. I didn't have to query her, and I didn't really have to track her down. I was talking to a few different agents at that point, but it was nothing really serious. Then I wrote this essay, which was completely different and unrelated to the novel I was working on, and it ended up leading me to the agent I have now, who had no idea I was writing a book. In fact, when she heard I was writing a novel, she was actually a little disappointed because she thought of me as an essayist and was interested in nonfiction that I might be writing. But eventually, she read the novel and really loved that, too.
For me, the takeaway is to think of yourself as a writer and not necessarily pigeonhole yourself into essays or fiction. If you write one more than the other, don't close off other avenues — you never know what will actually make people see your work. I'd been working on this novel for years, but it was the essay I just kind of banged out in an afternoon that led my agent to me and eventually to my novel.
Akwaeke Emezi
My first agent was at a small agency in the U.K., and that was through a recommendation of a friend. I had only a short story by then. In 2015, I went to a creative-writing workshop in Lagos, Nigeria. One of the faculty was Binyavanga Wainaina, who was actually the reason I had applied to the workshop, because his memoir, One Day I Will Write About This Place, was the first time I had read nonfiction by an African writer that kind of seemed similar to what I was writing about in my debut, Freshwater.
I got to talk to Binyavanga during the workshop, and I was telling him about what Freshwater is about and all the Igbo ontology wrapped into it. It was something he was really interested in, so he asked me to send him the manuscript and I did. He read it, then reached out to me and became very much like a fairy godfather to my work, because he was just like, Oh no, you need to be with a U.S. agency. So he sent the manuscript to Wylie, they read it and then I switched over and signed with them. I don't know how Freshwater would have gone if Binyavanga hadn't taken such an interest. He explained a lot about the publishing industry to me, explained how debuting in the U.S. would give my work a stronger foothold than debuting in the U.K. just because of the size of the publishing industry. I've tried to kind of pay it forward and introduce other emerging writers I know to Wylie, which has also signed some of them.
R.O. Kwon
It's wild to me that these practical matters aren't talked about more. There's often a general assumption that a lot of people know how things are done, what the industry shorthand stands for, what the unspoken norms are, but most people don't know. It's so classist and elitist that this assumption exists.
I was at the six-year mark of writing my book when I started querying agents, and I waited until then because I wanted to have my novel as close to finished as I thought I could get it at the time. The agent I ended up working with is Ellen Levine, who is really wonderful. I just emailed her out of the blue. It was a really short note, and all I said was "I'm writing to you because X, Y, and Z are some of the writers I love very much, and that's why I would love to work with you." And then I included two or three sentences about my book and two or three sentences of my bio, and that was it. And she wrote back the next day, asked me for my manuscript and then, after she read it, that was when we started working together.
That's the only general advice I ever feel comfortable giving about agents — that I think the language of love can be a shared language that can help show a writer where to go next and whom they might want to work with. Books are an incredibly inefficient way to gain money or power; people don't generally devote themselves to writing or editing with the sole purpose of getting rich. But we do all love books, and if one can talk to that and about that, then one stands the chance of finding that shared language. I worked on my novel for two and a half years with my agent before we sent it out to editors, and I wouldn't have been able to do that kind of work with someone whose reading judgment I didn't trust and respect.
Stephanie Danler
I think finding an agent is the hardest part. I cold-queried dozens of agents, and a couple of them got back to me very quickly. I ended up going with one of those agents, but agents I admired wrote me back two months later. I think it's slower than people anticipate for agents to return your email from a nobody who's never been published before. Of those people who got back to me quickly, I met with them and knew it instantly with my agent. That was the turning point of my entire career.
My agent is Mel Flashman. She's brilliant, she's an incredible reader of my work, and she has also become a friend. The question I get most often is how to find an agent, and I don't have a shortcut. I just wrote query letters to people who I thought would be interested in my work. I do think it's important to be specific — to say, "This is the reason why I'm writing you; you represent X, Y, and Z; and my book fits into this category that you seem interested in," as opposed to just doing a form letter for every single agent. I think being specific helps.
Madeline Miller
It was a very nerve-racking process. And it's my impression that it's only gotten more so. I did a lot of research into agents. I used Writer's Market — their searchable database — to find agents that were interested in LGBTQIA stories, mythology, historical fiction, literary fiction, fantasy. I figured if there was an agent who appreciated all those things, they might also appreciate The Song of Achilles. And then once I had a big list, I went and researched the agents online and looked at who their authors were and the types of things they said. I read interviews with them, and it was a little bit like applying for college, where you have your "wow, I would love to work with them" and "Here are some others I would really like to work with" and so on. With agents, there's really no such thing as a safety school. You can't make any assumptions that an agent will be interested in your work.
I sent out so many letters and got back so many rejections. But one of the agents I heard from was one of my top, top choices — Julie Barer. She read the manuscript in a weekend and offered me representation. I was completely beside myself, and basically said yes right there on the spot because she was so amazing and she clearly understood my work and I had wanted to be with her so much before that. So while there was a lot of hard work sending out those letters and doing all that research and making sure my query letter was right, it was all worth it because it meant that I matched with someone who really understood my writing.
J. Courtney Sullivan
I feel like my "getting an agent" story is really unhelpful because it was really a very lucky situation. I was able — because my college funded it — to take an unpaid internship at The Atlantic for a summer and be there full-time, which I never would've been able to do otherwise. Part of my job was assisting Michael Curtis, who was this wonderful but, to my mind, very intimidating man. Basically my job was to type up his rejection letters to people who had sent in short stories. At some point, he asked me if I wrote fiction; I told him I did, and he offered to look at my work.
Then, one day, I came into work and I could hear him in his office. He had the door closed; he was rattling around. I couldn't figure out what was going on in there. And when I came back from lunch, I had a letter on my chair from him about my stories — he had been rattling around in there looking for his old typewriters so he could type the letter to me because he couldn't ask me to type a letter to myself. It was very lovely. He said, you know, "Keep sending me your stories."
And I did: I went back to college, and I kept sending him stories. Then he handed another Atlantic editor some of my stories, and she contacted me and said, "Oh, I'd love to put you in touch with this literary agent who's just starting out; her name's Brettne Bloom, and she was an intern here too." So we ended up meeting, and Brettne was really just starting; it was her first month on the job as an agent. But we've been together ever since. I think I was 18, so we've been together for 20 years. We actually just went and celebrated our 20-year anniversary this fall. We had a lovely little weekend upstate together. Our marriage to each other is twice as long as our marriages to our husbands.
Interviews by Kelly Conaboy, Amanda Arnold, and Sangeeta Singh-Kurtz.
These interviews have been condensed and lightly edited for clarity.
If you buy something through our links, New York may earn an affiliate commission.