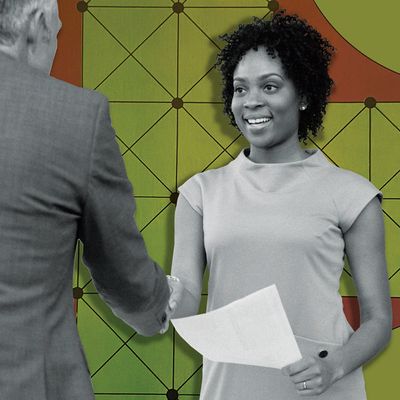 Photo-Illustration: The Cut; Photo: Getty Images
Hi, Kimberly,
This week, I was part of a large layoff at a start-up in a niche industry. Fortunately, I was already looking to leave, and it's probably for the best that this company and I part ways. I just wish it were on my terms. I already have interviews set up at other tech companies in this niche and am now applying very aggressively. It's a small world, so I'm sure they are all aware of the layoffs.
I've never been let go from a job before. In these and any future interviews, how do I navigate talking about that? I want to be honest, but I also don't want to put myself in a worse negotiating position or insinuate that I was underperforming or a bad employee. How do I respond to questions about my "current" position? How should I adjust my résumé and LinkedIn to reflect that I am no longer employed? Are there ways to mitigate the negative connotations of being let go?
Thanks!
Laid Off
First and foremost, my condolences for being laid off. No one ever wants to be in that situation, even if they are looking to leave their job in the near future. Layoffs already happen with some frequency in the tech world — owing to changes in the industry, loss of start-up funding, etc. — and with the pressure of a recession now on the horizon, many companies are downsizing. Unfortunately, layoffs like those at your employer are likely just the beginning of what we will see over the next few months.
Worrying about how recruiters and hiring leaders perceive you is a natural part of interviewing for jobs. But you may not have much to fear: Given that you're in a niche part of the tech industry, recruiters and hiring leaders may already be aware of the situation at your company. I've even seen secret "layoff lists" being passed around to recruiters so companies that are looking for talent can easily search for newly laid-off employees on LinkedIn.
To ease the stress of interviewing, I recommend preparing a quick one- or two-line explanation of any extenuating circumstance or gap in employment. This allows you to convey what happened without creating a drawn-out narrative, which can appear as if you're overexplaining to cover up poor work performance. Other career coaches may disagree with me, but I believe telling the truth in situations like this is much easier. You were laid off, not terminated, so there's no need to lie.
I recommend saying something like this if a recruiter or hiring leader asks why you left the company:
In July 2022, nearly [insert percentage here] of my company was unexpectedly laid off, and unfortunately I was one of the employees who was impacted. Prior to the layoff, I had a track record of success and was able to [insert three key accomplishments from your experience with that company here].
Keep it short and sweet, then bring the conversation back to your accomplishments. Remember that you are simply stating the facts about what happened at your previous company and that the more confident you are in your response, the better the person you're speaking with will feel about you as a job candidate. If you're not asked why you left the company, or about the layoffs, there's no need to disclose that information.
Since you're interviewing right now, you don't need to worry about a gap on your résumé or LinkedIn profile. I recommend ripping the Band-Aid off and updating both with the end date of your employment. Make sure you don't lie about your dates of employment on background checks or employment applications, either. As a former talent-acquisition professional, I've seen candidates lose job offers after misrepresenting their employment dates and getting caught during the background check.
I also encourage you to remember that you lost your job because of changes the company made that might have had nothing to do with your individual performance, while when you're fired, the company determines that you've taken specific actions that make you no longer a great fit for the company. So even though this layoff significantly impacts you, there was likely nothing you could have done to keep your job once the company decided to lay off employees. This situation was out of your control. Your only focus now is navigating the next logical move in your career.
Career and leadership-development expert Kimberly Brown helps readers make sure their next move is the best move. Listen to the Your Next Move podcast here and keep up with Kimberly on her website.