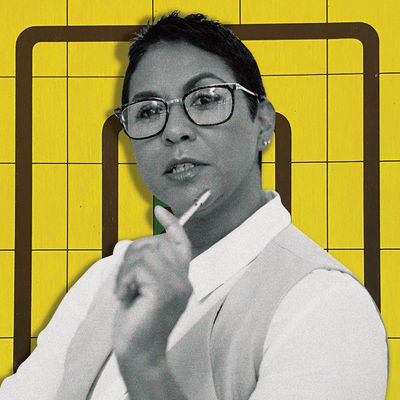 Photo-Illustration: by The Cut; Photo: Getty Images
Hello, Kimberly,
I am 57 years old and have been working as a designer for 30 years. I'm very good at what I do, and I enjoy it. But I want a higher title.
I've been at my current job for nine years now as a manager and have worked hard to show I am qualified for a higher position of creative director. But it's become painfully clear it won't happen here. The position doesn't exist, and they aren't open to creating it.
It's time to move on, but I'm running into trouble, as I am in a very youth-oriented field. I get very few interviews and never any offers. When I look on LinkedIn to see who got the position, they are often someone at least 20 years younger than me. I fear I have aged out of my profession even though there are creative leaders my age. I work hard to keep my skills fresh, but because my current job won't let me use them, I have nothing tangible to show.
I feel very stuck and frustrated. Changing careers now would be hard because I need to make a certain salary. What can someone my age do when it's time to move on from a dead-end job?
To quote the late great Aaliyah, "Age ain't nothing but a number."
I've worked with professionals of all ages, and the biggest piece of advice I give to older workers is to stop fixating on the differences between various generations in the workplace. By focusing on an unchangeable attribute like your age, you're unnecessarily othering yourself. You've acquired crucial knowledge from your direct experience in the field, and your focus needs to be on how to leverage that knowledge to make your next move.
Now, this isn't to say that ageism doesn't exist. It can be a real issue in some industries, and I've found that candidates who draw unnecessary attention to their age negatively impact their job prospects. During my time as a career coach at a university, I worked with an alum who was having a really hard time landing a new job. She had decades of experience in speech-language pathology. We made minor tweaks to her résumé, rewrote her cover letters, and updated her LinkedIn profile, but still the job interviews were few and far between. We found that very quickly after a phone screening, the companies would simply decline her application.
I had an idea as to why some employers could be turned off. I noticed that the alum's roots were outgrown with about two inches of grays that abruptly met her auburn shoulder-length hair, and her wardrobe was a bit eccentric and outdated. I was hesitant to mention this to her in a coaching session, but I knew there might not be anyone else who would. Knowing money was a concern, I suggested dying her roots at home and finding affordable suit separates at Target to wear to her interviews. You may think that this advice was aimed at making her appear younger, but what it actually did was boost her confidence. She was excited to walk into interviews and literally held her shoulders back and her head high because she liked what she saw in the mirror — and interviewers picked up on that. Given that you work in design, I'm assuming that you're A-okay in this department. But if you're not, what changes can you make to show up for the job that you want — not the job that you currently have — as the most confident version of yourself?
Also, the alum I worked with was quick to say things in job interviews like:
"Based upon my 30-plus years of experience …"

"When I started out my career, we always did …"

"I'm not sure how you approach this nowadays, but when I was trained …"
All of these responses felt like subtle jabs to show that she was far more experienced than her interviewers. The reality is that we are dealing with a multigenerational workforce, and you may interview with employees who are much younger than you. No one you're speaking with wants to feel that their work experience is "less than" because you're older than them. Your résumé has your dates of employment and time in role readily available, so there's no need to drill home the experience gap further. The person you're interviewing with can likely guess how old you are, and they clearly don't have a problem with it. Remember: They called you!
Last but not least, the alum was not properly leveraging her relationships to support her job search. We went through her past roles and tracked down contacts on LinkedIn so she could start having informational conversations. When you've worked in one field or at one company for a long time, you may believe that you don't need help because you "should know it all." That is generally not the case. No matter what level of seniority you have, relationships can help expedite your success. Even if you feel your network is concentrated within your current company, think about everyone who has left during your tenure or relationships you have in other departments. Those people can advocate for your next move outside your company.
It's also not too late to reconsider going after that promotion. If it still interests you, reevaluate how you raised the idea of the creative-director role. Have you asked your manager what they need to see from you in order to know that you're ready for a promotion, and did you execute on any feedback they gave? If you've already had those tough conversations, you can give it one last hurrah by demonstrating the value a creative director would bring to the company. Ask yourself:
Why does the company need a creative-director role?

What will change once this role is in place?

What resources will this role need?

What do you want to implement in the creative-director role that you're unable to do as a manager?
When asking for a title change, we might focus on the prestige and salary that the new title brings. But you also need to communicate to leadership what the role's return on investment would be. At the same time, I challenge you to reach out to key professionals in your network who can vouch for your next external move should the company say "no."
Career and leadership-development expert Kimberly Brown helps readers make sure their next move is the best move. Listen to the Your Next Move podcast here and keep up with Kimberly on her website.