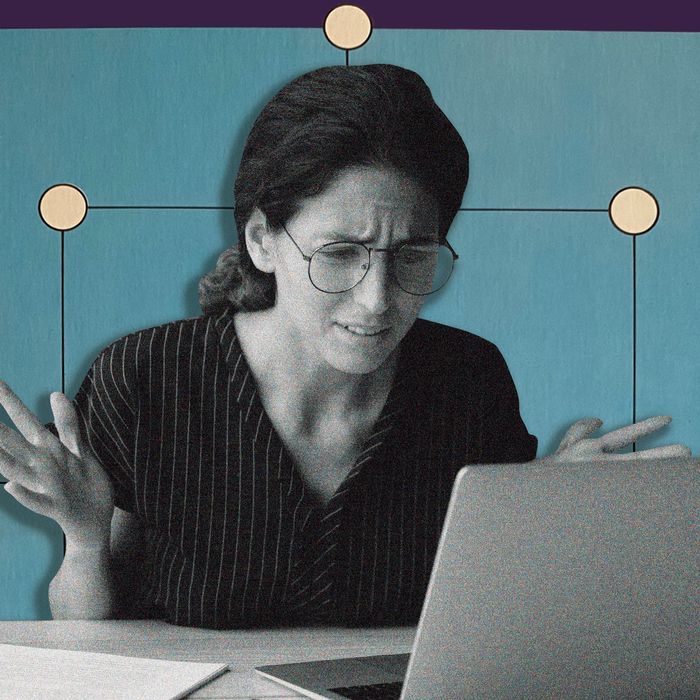 Photo-Illustration: by The Cut; Photos: Getty Images
Hi, Kimberly!
I am officially job hunting and have received an opportunity to do a phone screening for a well-known insurance company. On a Wednesday, the recruiter emailed me, asking what would be a good day and time, and I responded the upcoming Friday between 9 and 10 a.m.
She responded on Thursday, saying Thursday would not work for her, and took it upon herself to schedule me for the upcoming Monday between 10 and 10:30 a.m.
I respectfully responded and reiterated I would be available Friday (the next day) between 9 and 10 a.m., but not the following Monday. Would she be open the next Friday between 9 and 10 a.m.?
She responded with a calendar invite for that Friday, but for 10 to 10:30 a.m. — basically ignoring the fact that my availability is from 9 to 10 a.m.!
I'm not trying to waste someone's time or play games. I have my reasons for that time frame. But these missteps seem to be red flags. Should I continue to pursue this job opportunity?
Yikes! This sounds extremely frustrating and would definitely put a damper on the excitement of interviewing for a new job. Sadly, a candidate's experience with a recruiter can sometimes give them a poor impression of the company as a whole. If you're truly interested in this company, however, I wouldn't let this interaction deter you from moving forward.
Talent acquisition is similar to the office of admissions in college. That office manages the entire review and enrollment process from end to end, and once you're onboarded, you may never interface with them again (unless you're collaborating to hire someone for your own team or interviewing for another role at the company). While they may have the absolute best of intentions, these teams can be heavily under-resourced. One recruiter may have to manage 50-plus open positions with multiple candidates. While it's not an excuse for disregarding your availability, this may be the recruiter's situation, and they may have been hoping that you'd be able to accommodate the times they suggested.
When I have difficulties scheduling meetings with clients, sometimes I send out a calendar request with a note for them to "suggest a new time" if the time I selected doesn't work. In many cases, proactively scheduling the meeting is what helps make it happen, versus waiting for an email response, continuing to compare calendars, and praying for a small window of time that works for everyone.
To avoid confusion in the future, I highly recommend providing a greater range of availability when anyone requests to meet with you. It's extremely difficult for anyone to accommodate just one hour on one day of the week. As a rule of thumb, provide three to five blocks of time when someone is requesting to meet with you so that you can avoid the back-and-forth that comes with manually scheduling a meeting. Here's a template response that you can use:
Hi, Recruiter,




Thank you again for the invitation to interview for the manager role at ABC Company. Here is my availability for the next week:
Tuesday 1/3 from 1 to 3 p.m.

Wednesday 1/4 from 9 to 11:30 a.m.

Friday 1/6 from 2 to 4 p.m.
If these times don't work, please reply back with your preferred times and I'll do my best to accommodate. I have the most flexibility on Wednesday mornings. I look forward to speaking with you soon.
It can get difficult to find the time to sneak away for interviews when you're working full time. But there's really no way around it if you'd like to move into a new role at a new company. I've seen candidates request interviews after traditional working hours, with very limited availability, which makes the recruitment process difficult for all parties involved. It can also leave a bad impression on recruiters or hiring leaders when candidates are unwilling to prioritize interviews.
Remember that your focus needs to be on where you'd like to go in the interview process. I'm not recommending that you disregard your current responsibilities, but it's helpful to adjust in favor of your potential new employer whenever possible. Whether you're asking someone at your current job to reschedule an existing meeting, or you're asking a recruiter to accommodate another time that works better for you, you need to have some flexibility and grace to complete the interview process.
Career and leadership development expert Kimberly Brown helps readers make sure their next move is the best move, here, every other Wednesday. Have a question for her? Email yournextmove@nymag.com (and read our submission terms here.) Listen to the Your Next Move Podcast here.