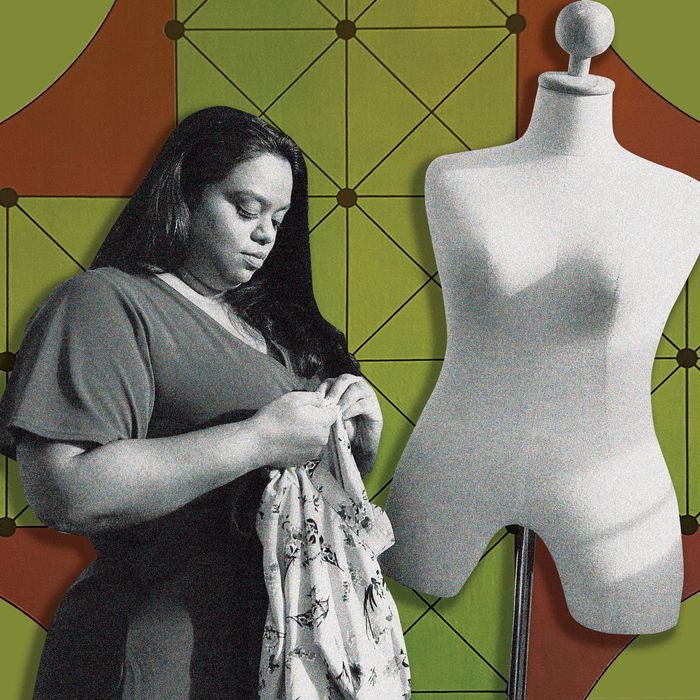 Photo-Illustration: by The Cut; Photos: Getty Images
Dear Kimberly,
I don't want to say that I'm stuck, so I'm going to say that I'm uncertain. I'm currently working as an adjunct fashion instructor. I'm also a freelance fashion designer/fashion illustrator. Although I love working as a fashion instructor, working as an adjunct is not paying the bills because it's part-time.
I've done a lot of things with the school and lead programs because of my knowledge in my industry. I've been applying at other schools, as well as for remote opportunities in fashion. I've been unsuccessful and I can't understand why. I've been reaching out to different companies for opportunities as a freelance apparel designer. It has been a dry spell for me with consistent freelance work. One company has reached out to me.
I've been applying for work in my field trying to get something that will help me get by, and it's been tough. I've been thinking if I should go ahead and start my own apparel line, but that still involves money that I don't have. I'm uncertain as to what I should do.
It can be extremely frustrating and confidence-crushing when you're trying to make a career move, but nothing is yielding the results you're looking for. When I'm working with clients who are actively applying to jobs, my goal is to find out where the "hole" is that's preventing them from moving to the next phase in an interview process. It sounds like you're not receiving call backs from your applications, so there are three main areas I want you to address.
First, how many applications have you sent out? It's not uncommon for someone to only send out a handful of job applications and get discouraged because they haven't heard back. There is generally more competition for more junior positions due to the larger applicant pool. Even if you're the perfect candidate, your application could get lost in the funnel due to the sheer volume that the company may be receiving. If you've only filled out a few applications over the past couple of months, I suggest broadening your search and applying to more roles that are aligned with your skillset.
Secondly, can a recruiter or hiring leader easily see that you'd be an excellent candidate from looking at your résumé? For roles that require some related or transferable experience, the company needs to be able to understand how your past experiences would help you to be successful in the role you're applying for. Often, resumes simply list out a bunch of tasks, and that doesn't share enough information to help a recruiter understand your ability to do a job well. I recommend using the "action + result" format to drive home your ability to execute and create an impact. For each bullet point on your resume, make sure you're stating why you did a given task. Adding this "result" statement drives home the scope of the task and creates alignment with the job description. Here's an example from my own résumé:
Original bullet: Implement an effective global diversity talent-acquisition strategy 

Action + Result Format: Implement an effective global diversity talent acquisition strategy to support the needs of key stakeholders including: prospective candidates, hiring leaders, recruiters, HRBPs, and senior leadership
Last but not least, evaluate your existing network. Do you have sponsors who can advocate for your candidacy? Sponsors don't have to be a senior person at the company you're interested in, or even a hiring manager. The key is that the person has the influence to help you get a call back and an invite for at least a phone screening with a recruiter. For each company that you apply to, look on LinkedIn to see if anyone in your network has worked at the company. If so, try to connect with them for an introductory conversation. If you already have a camaraderie with that person, it's fine to let them know that you're applying for a job and would love any insights or introductions they could arrange.
If you don't know the contact well, reach out for an informational interview to learn more about their experience at the company. In most cases, they also will ask about your career, and then you can share that you're currently job hunting and saw an open role at their company. Depending on how well the conversation goes, they may be able to provide a referral or introduction. The conversation should feel natural and not forced. If you feel like you're pulling for information or that you don't have any chemistry, it's fine to not make the ask. But it's always helpful to shoot your shot, because you never know how far an introduction may go! It's true that the stronger the relationship, the better the referral, but closed mouths don't get fed either! I've seen quick introductions lead to wonderful opportunities.
As for starting your own business, only you will know what's possible at this time, especially if you need capital. When you're first starting out, I recommend doing what you can with what you've got. Testing the waters before jumping into larger investments and commitments can also be helpful. Start-ups talk about developing an "MVP," or minimum viable product; for a clothing line, maybe that's launching with one to two items versus a complete collection so that you're able to gauge interest in your designs, make changes based upon customer feedback, and generate revenue to fund the expansion of your business. Ideally, you'd be able to create your MVP while continuing your full-time job search.
Career and leadership development expert Kimberly Brown helps readers make sure their next move is the best move, here, every other Wednesday. Have a question for her? Email yournextmove@nymag.com (and read our submission terms here.) Listen to the Your Next Move Podcast here.