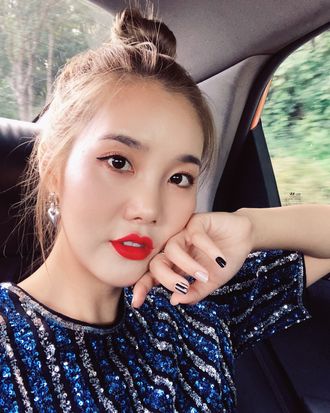 Photo: Courtesy of Joan Kim
Want more skin care? Join The Beauty Group.
If you're one of Joan Kim's 568,000 YouTube subscribers, you know about her love for Korean beauty. The beauty vlogger has seemingly tried just about every product on the market in her videos, but she didn't develop a skin-care routine until she moved to Korea in 2014.
"I grew up with K-beauty because my mom always had a four-to-five-step beauty routine at home," she says. "I always thought it was excessive, but when I moved to Korea, I had fun discovering new products and pampering myself." The overwhelming amount of choices proved difficult to navigate, so she turned to The Little Book of Skin Care by Charlotte Cho, aesthetician and founder of Then I Met You and Soko Glam.
Using Cho's book, Kim constructed a multi-step regimen with gentle and innovative products to balance her dry and acne-prone skin. Luckily, she had plenty to choose from. She explains, "K-beauty is great because there are so many options. You can walk around Myeong-dong and buy sheet masks for 50 cents or even treat yourself to a luxurious serum from Sulwhasoo." Below, her full routine, including a two-in-one toner and moisturizer, a glowy peach balm, and a pricey but worth-it serum.
The Serum
"Sulwhasoo is one of the top K-Beauty brands. They are not joking around when it comes to anti-aging and finding the best ingredients for the skin. This particular serum is formulated with ginseng. Ginseng is great for improving the elasticity of our skin and helps reduce fine lines and wrinkles. Serums are skin boosters, and although this product is pricey, I don't mind investing in it to to help speed up the skin-renewal process."
The Eye Cream
"I'm pretty new to L'Occitane skin care. I only knew about their hand cream and body products until I went to Provence to learn more about the brand. The Immortelle line is great for anti-aging because of the organic essential oil extracted from the Immortelle flower, better known as the 'everlasting flower' that has anti-aging properties. This eye cream feels luxurious around the eye. I'm 27, and I got in the habit of using eye cream since the moment I turned 20. I've tried many eye creams, and I'd have to say this one is something I would re-purchase because my sensitive skin finds this gentle and effective."
"Laneige is a brand that truly focuses on moisture. With their Water Science™, which aims to address different skin concerns with varying types of water (like Mint Water or Hydro Ionized Mineral Water), they've developed innovative products for all skin types. They're very popular for their sleeping products, like their Water Sleeping Mask and their Lip Sleeping Mask, because of the moisture and glow that they provide. The Cream Skin line is new, and I think it's their best yet! The Cream Skin Toner & Moisturizer is perfect for everyone, especially if you are feeling lazy and want to use one product to tone and moisturize. These pads are even more convenient because they're soaked with the perfect amount for your face and neck."
"This cream was made in collaboration with one of my favorite K-Beauty brands, Neogen. Neogen has some of my favorite cleansing products in Korea, and I'm obsessed with the innovative formulations they come up with. JOAN (my name) translates to 'good' in Korean, so 'JOANDAY' means 'good day.' The concept I was aiming for was 'affordable and moisturizing cream for all skin types.' Since I have dry, dehydrated, sensitive, acne-prone skin, I wanted to combine some of my favorite ingredients during my five years as a beauty 'guru.' The day cream is formulated with green tea, a popular antioxidant that is often found in a lot of acne products, and vitamin C, which is great for fading scars."
The Sunscreen
"Troiareuke saved my skin from a horrible breakout back in 2014. Facials are just as important as your home-care routine, and there are overwhelmingly a lot of clinics out there, especially in Korea. Finding the right dermatologist can be tough, but after trial and error, I finally found a great one, where I discovered Troiareuke. It was previously only found in spas, but the products offer professional-level skin care. Acne is not going to go away overnight; it actually took me about three years to get my skin to look the way it does. It's not perfect, and it's still a work in progress, but I'm happy and confident with the results. Troiareuke products are great for acne and sensitive-skin types. I love their sun essence (a sunscreen) because of the lightweight texture and how it mixes well with my base makeup. This is a holy-grail product."
The Lip Balm
"As mentioned before, Laneige is known for their moisturizing products. This lip balm is the 'lighter' version of their sleeping mask that you can use throughout the day. It's conveniently in a squeezable tube so you don't have to use your fingers or an applicator to scoop out. Love this!"