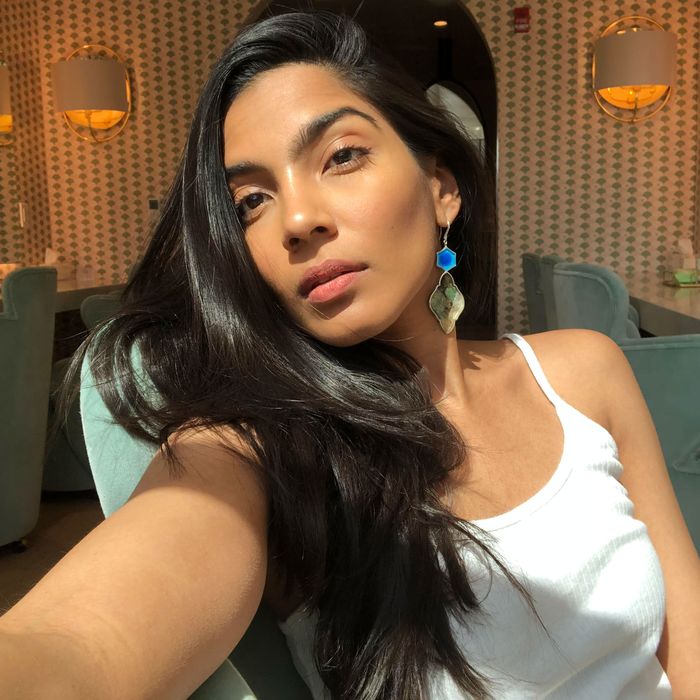 Photo: Courtesy of Zara Rahim
Want more skin care? Join our Facebook Group, the Beauty of It All.
Zara Rahim serves as senior leadership in The Wing's comms department, and she's held strategic posts at Vogue, Hillary Clinton's campaign, Uber, and the Obama White House. She's a pro at working long hours with little sleep. But you'd never know it from her skin.
"I became obsessed with my career at the ripe age of 21 when I jumped onto the Obama campaign," she says. "From there, the majority of the jobs I've had required me to spend an insane amount of time at work, and moving from city to city. The ritual of a good, consistent skin-care routine lets me take some time for myself. It's something that anchors me in the morning and the evenings, and as silly as that sounds, it makes all the difference in the world."
Rahim started her foray into skin care by selecting a face wash, and slowly added steps to her routine as she became familiar with her skin's needs. It took her about three years to come up with a plan that she wanted to stick with. "It takes time to find something that works for you, your budget, and your lifestyle."
Right now, she says she's battling "a lot" of blackheads in her T-zone and dry skin. Take a look below for the products she's deployed to solve these issues, including the cream she uses when she can't be bothered to do her full skin-care routine, the French toner she relies on for smooth skin, and her favorite $6 "no frills" cleanser.
The Wipes
"These are wipes that I have been using since high school. I use these as a pre-cleanse, or if I'm traveling, I use them in place of a face wash if I am desperate. This is one of the only makeup wipes I have used that successfully removes serious makeup — dark liquid liners, kohl, thicker mascaras, or hard-to-remove lip stains and lipsticks. And it doesn't irritate my contacts."
The Cleansers
"I love to use a gentle cleanser on my face, and this is an extremely affordable, high-quality option. It feels good to use both day and night — any time you feel like you need to refresh your makeup and start over. I don't love spending a lot of money on face washes because I use them so frequently and have found that simple, no-frills cleansers do the job just as well as expensive ones. And I like knowing that if I'm traveling, I can just run into any CVS and grab some and not feel like I'm breaking the bank. The only thing I actively avoid are foaming cleansers because they have harsh surfactants that can strip the skin, leaving it vulnerable and more likely to become oily."
"I use the milk jelly cleanser primarily in the shower. It is the only cleanser I feel secure enough to use around my eyes. I have two different sizes: one for travel and one that stays in my bathroom. If I can't take my Neutrogena gentle cleanser, I use this while traveling as my primary. I love Glossier because so many of their products are multiuse, and they're truly democratizing makeup and skin care."
The Exfoliant
"A few years ago, before my first Met Gala, I went to Rescue Spa because I read that celebrities get facials before big galas or events. Skin-care goddess Danuta Mieloch used this extremely smelly yet powerful product on my face. My first thought was, Wow, being rich smells terrible! (Let me be clear, I am extremely not rich, but I think about what it must be like a lot.) Now I can't live without my P50. The results have been so noticeable! I use it after cleansing, but only four to five times a week because it's so intense. It comes with warning labels that make you feel like you're ordering nuclear waste. But I promise, the potential fallout is worth it."
The Serum
"What is a serum? Who among us knows! To be frank, I just know it sounds sexy and scientific. While P50 does a great job of balancing the pH of my skin and removing any excess oil or dirt, it's extremely drying, so it's important to nourish and replenish the skin with a serum. I love this one because it is extremely light and a little goes a long way. I use this right before I put on my moisturizer. The kind friends at Chanel sent me a bottle, and I am really milking every last pump."
The Moisturizer
"This is one of my all-time favorites. It's extremely moisturizing; I put it on before bed, and it leaves me still feeling hydrated in the morning. If I'm working late and too tired to do my full skin-care routine, I feel like I can use it after washing my face without compromising the health of my skin. Any moisturizer from B.R. is great, and I switch it up occasionally, but this is one of my all-time favorites."
The Eye Cream
"This is a nice cooling gel that deeply moisturizes under your eyes. It gets rid of puffiness and is one of the few eye creams I've tried that doesn't cause a burning sensation. Use eye cream! The devil goes for those wrinkles first!"
The Lip Balm
"I use this every night before bed or before applying a lipstick. It's very much like giving your lips a recovery mask and helps avoid cracked lips. It also works great as something to put on in place of a chapstick or lip gloss. I have had the same tube for more than a year. A little goes a long way!"
The Sunscreens
"Please use SPF! There is no excuse not to. I have two that I love at different price points (this is the fancy one), but any SPF works. I especially tell all the people of color I know to wear SPF because we are the greatest perpetrators of not using it. We are not more powerful than the sun, friends!"
"Many SPFs leave white residue, make you look oilier than you'd like to, and are difficult to reapply for fear of ruining your makeup. With Glossier's sunscreen, I have none of those issues and feel really comfortable reapplying it throughout the day and throwing it in my bag. It's also extremely affordable. I actually started using this sunscreen after I saw Anaa Saber post about it on her own WIYSSG video. So thank you for the tip, my queen!"
If you buy something through our links, New York may earn an affiliate commission.