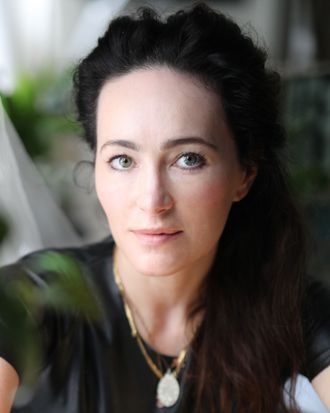 Photo: Courtesy of Melanie Simon
Want more skin care? Join the Beauty Group on Facebook.
Melanie Simon's love for skin care began with a school science project. "My sister moisturized nectarines with a different moisturizer, and I'm not kidding you: Six of them from the same batch looked completely horrendous after a month, and the one with Lubriderm on it was perfect," she says. "I just thought, Oh, there really is something to taking care of skin." It was a lesson that stuck with her, and years later, Simon found herself driving a six-hour round-trip commute to an aesthetics school for her license.
"I thought I would go to school and learn the most amazing things, but really all you learn to get your license is how to make sure things are clean, sanitary, and safe," she remembers. "Luckily, I stumbled upon someone who recommended Biologique Recherche to me early in my career." Part of its technique, she says, involves a machine that combines three electrical waveforms — galvanic, medium frequency, and radio frequency — to improve skin. Fascinated, she wound up researching electricity's effects on skin, eventually inventing an at-home facial device, the ZIIP, which is now a regular on "best beauty products" lists.
When it comes to taking care of her own skin, Simon uses her ZIIP device, but she also relies on certain products to maintain a clear, bright, and stress-free complexion. She says, "After turning 40, I've seen how I can really look my age if I have not been treating my own skin regularly." Read on for her high-performance routine.
The Micellar Water
"As a cleanser and makeup remover, this meets all my criteria: no perfume, good for sensitive skin, and noncomedogenic (blackhead-causing). I like it because I have never, ever, in the hundreds of ZIIP facials I have given at different events over the years, had any issues or flare-ups with it."
The Device
"Here's how the ZIIP device works: Low levels of electricity have been scientifically proven to increase our ATP (adenosine triphosphate) production. ATP is necessary for converting everything we take in to our body into usable matter. Example? For the salmon I just ate for lunch to increase my collagen production, I must use ATP to convert the omegas in fish to collagen for my skin. But ATP declines as we age, so no matter how great my diet is, or my skin-care routine, without ATP, it just cannot be transformed into the internal materials that keep our skin looking youthful.
Nanocurrent and low levels of microcurrent, like the cocktails of electrical currents I use in ZIIP, increase your ATP about 500 percent. But the downside is that we cannot store the ATP that we do not use. That's why I developed an at-home device. If you use your ZIIP every three days, you're kicking up that ATP production again and again, so that you can make all the collagen and elastin for your skin that you need. Once you get that ATP on a regular basis, you really see the magic happen with your skin.
You use a conductive gel with every treatment and follow along on the ZIIP app. You can leave it on as a mask for a few minutes, then wash it off, but there are other ways I like to play with it. I'll pat it down with a soft, damp washcloth so that it is the consistency of night cream, and leave it on to sleep in. Or, if it's daytime, I'll wash almost all of it off and then put a bit of moisturizer and an eye product over it, then minimal makeup — I like RMS Rose-Quartz Living Luminizer and Bronzer — and SPF. (The one exception to this rule is: If you do the Total Clearing acne treatment, you must fully remove the gel as that waveform pulls bacteria out of the skin, and it must be thoroughly cleansed.)
Just keep in mind that these are essentially treatment masks. You want to start slowly to see what your skin can tolerate, especially with the gold, as that contains the highest level of active ingredients between the conductive-gel treatments."
The Gauze
"For professional use, these are the gold standard for cleansing and toning. Gauze doesn't steal your product but, rather, pushes it in, and it doesn't leave trails of cotton on the skin. These are soft, so they won't scratch the skin like a rough washcloth will. Also, you can absolutely rinse and reuse them.
Typically, I prefer damp gauze for my toner application, so it works out perfectly to use them rinsed for your toning step. Toners are acidic and natural disinfectants, so once you are finished toning, give them a quick rinse, and hang dry so they will not mold. Use until they start to disintegrate. Gauze should not be used for steps after toning. Your fingertips are all you need from here on out."
The Toner
"This product is really effective at brightening all skin types. Almost everyone can tolerate this toner and receive the amazing benefits it delivers. Expect to see tightened pores, luminous skin, and a reduction in breakouts and blackheads, giving the overall texture of your skin a really nice uniformity. I would say, to be safe, give yourself a week to adjust, just in case it purges your skin. This happens less frequently with this version of P50 than the original formula, but better safe than sorry. It smells very faint but medicinal. If you apply with damp gauze, it dilutes the smell to an almost unnoticeable level."
The Vitamin C
"No hot dogs here! Vitamin C devours free radicals, which destabilize your skin cells. Think of it as Pac-Man eating up the little Pez that are the free radicals and keeping your cells safe."
The Serum
"This product contains fermented marine bacteria from the Antarctic. It's an active plant ingredient that can survive drought and extreme heat and cold. This formula transfers those properties to the skin. It feels like a glass of water when you are parched or a warm blanket when you are cold. It's hard to explain, but putting this product on your skin feels refreshing and protective."
The Balm
"My friend David Pirrotta recommended this balm to me after a laser treatment at my derm's office. I loved the effects, and this is now my go-to when I leave the city and head for the mountains or high desert every weekend. The balm gives you a next-level moisture quality. It emulsifies onto the skin very easily. Once this happens, you are much more hydrated than you would be with a moisturizer, and it stays with you much longer as well."
The Lip Mask
"This mask works better than a lip balm and can be slept in. It's currently discontinued, but coming back in January!"