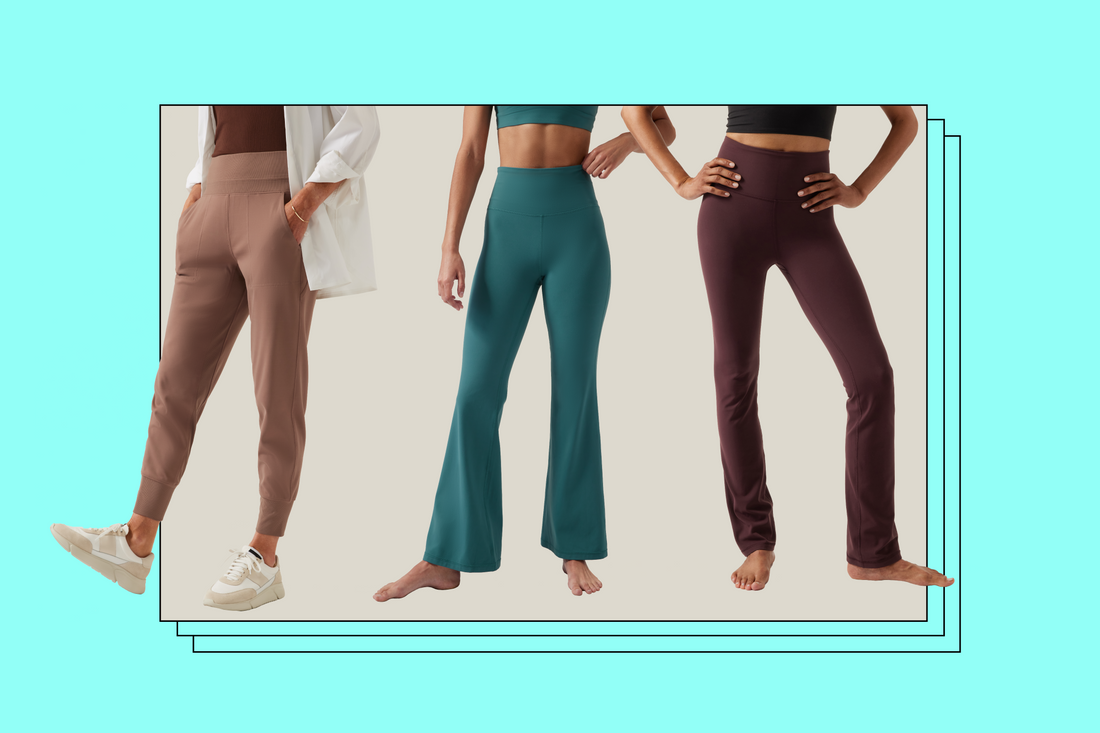 We're not ready to give up comfy and cozy looks for fall, but we're swapping our tired, years-old leggings (you know the pair) for soft pants in fresh silhouettes. This season, the key players are flare, straight-leg, and jogger shapes in impossibly soft fabrics, combining the feel of our favorite leggings with the fit of our best jeans.
Nobody does buttery-soft fabrics quite like Athleta (the Powervita fabric is a customer favorite for a reason), so we're turning to the retailer for all our pant needs. Combined with lightweight layers on top and perfectly muted fall hues, these outfits work for every autumn activity.
Outfit #1: Hot Girl Walk
We're not giving up on our Hot Girl Walks (TikTok would never!). Instead, we're taking to nature with a matching set and cozy, yet refined, layering pieces to keep the chill at bay. The Salutation Stash Flare Pant brings everything we love in our leggings — soft performance fabric, high rise, side pockets — to a stylish flare leg silhouette. Add on a crop top, sweater, and quilted coat for a versatile, elevated look that easily goes from park to coffee shop.
1. Athleta Salutation Stash Flare Pant
2. Athleta Elation V-Neck Crop
3. Athleta Hanover Refined V-Neck Sweater
4. Athleta Mendocino Coat
Outfit #2: Casual Office Day
Smart styling can make a pair of comfy couch pants deceptively office-appropriate. Take the Venice Jogger. It's got sculpting fabric that's stretchy, breathable, and moisture-wicking for ultimate comfort, but in a sleek silhouette that's easy to dress up. The key is to opt for a monochromatic effect — a fitted merino wool top and quilted jacket combo, in rich chocolate tones to match the pants, is simple and stylish.
1. Athleta Venice Jogger
2. Athleta Ascent Seamless Top
3. Athleta Whisper Featherless Jacket
Outfit #3: Off-Duty Outing
The ideal weekend outfit should require zero thinking. Doesn't matter if we're working out, running errands, heading to brunch, or all three — the right ensemble serves up comfort and confidence. The Elation Flare Pant won't sacrifice on performance, and the forest green shade is more eye-catching and put-together than your typical neutral leggings. Pairing the pant with a matching bra top will give the look more intentional coordination, while throwing a contrasting sweatshirt around the shoulders will tie everything together effortlessly.
1. Athleta Elation Flare Pant
2. Athleta Solace Bra
3. Athleta Lombard Ruched Sweatshirt
Outfit #4: Travel Adventure
We've perfected the ideal travel outfit and we're not leaving home without it this season. Whether we're jetting out of the country or simply heading upstate for the weekend, any and all travel plans will henceforth include the Elation Straight Leg Pant. It's like our most-worn pair of jeans — but, like, way softer and stretchier. Teamed with a matching bra top, it's an easy on-the-go outfit for a day of traveling or sightseeing, but the important additions are the lightweight, packable layers. A thin hoodie and quilted jacket ensure warmth, comfort, and ease of movement, but won't bog you down if you need to peel them off at any point during the day.
1. Athleta Elation Straight Leg Pant
2. Athleta Warrior Longline Bra
3. Athleta Uptempo Elevate Hoodie Sweatshirt
4. Athleta Mendocino Coat
This advertising content was produced in collaboration between Vox Creative and our sponsor, without involvement from Vox Media editorial staff.