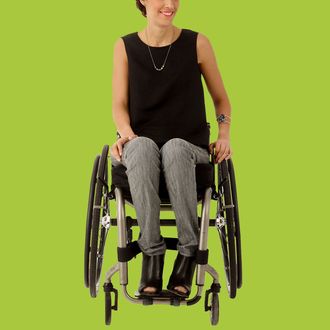 You've likely heard the phrase "fashion meets function" a million times, but for people living with certain disabilities and health conditions, functional design is extra helpful. A recent New York Times story described some these functional design innovations and considerations, like creating non-bunching shirts for people in wheelchairs by designing them with shorter torsos. Here are some intriguing concepts from the story, plus a few more clever designs we found.

Shirts with magnetic closures
MagnaReady was dreamed up by a woman whose husband has Parkinson's disease and had trouble buttoning his Oxford shirts. Now they sell men's and women's shirts with magnet closures behind button plackets and cuffs, as well as magnetic ties for anyone with limited mobility or dexterity caused by Parkinson's, rheumatoid arthritis, or other conditions. The Times reports that she already worked with Tommy Hilfiger on a line of kids' clothes and that the PVH Corporation will incorporate MagnaReady tech into Van Heusen dress shirts.
Shirts with zip-open flaps
The Times mentioned Care and Wear, whose shirts allow for the insertion of and access to medical ports, used for chemotherapy and to administer long-term antibiotics, without a need to disrobe. The polo-shirt design has a flap akin to nursing bras (just higher up) and the women's raglan-sleeve shirt has a zipper along the seam. They also make sleeve covers for PICC lines, or semi-permanent IVs that doctors use to deliver drugs.
Jeans for wheelchair users
IZ Collection has a full offering of women's and men's clothes designed specifically for wheelchair users, but the jeans are especially brilliant. The waistband is higher in the back so it won't ride down while sitting and there are no back pockets for comfort. Plus, they offer jeans with wrap waists or full side-zips so people can get in and out of them from their chairs.
Zip-up sneakers
A Florida teen with cerebral palsy wrote to Nike saying that he loved the ankle support of basketball shoes but he couldn't tie them on his own because he only has mobility in one hand. Nike was already working on an easy-entry shoe and consulted the teen on prototypes. The result was the Nike LeBron Zoom Soldier 8 Flyease, released last summer, which zips open like an orange peel and can be closed with one hand. The technology is now available in the LeBron Zoom Soldier IX, and two styles of running shoes in both adult's and kid's sizes.
Sweatshirt with drain pockets
A breast-cancer survivor designed zip-up hooded sweatshirts with removable internal pockets to hold surgical drains put in place after a mastectomy. A zip-front shirt is easier to get on following surgery and you can ditch the pockets after recovery.