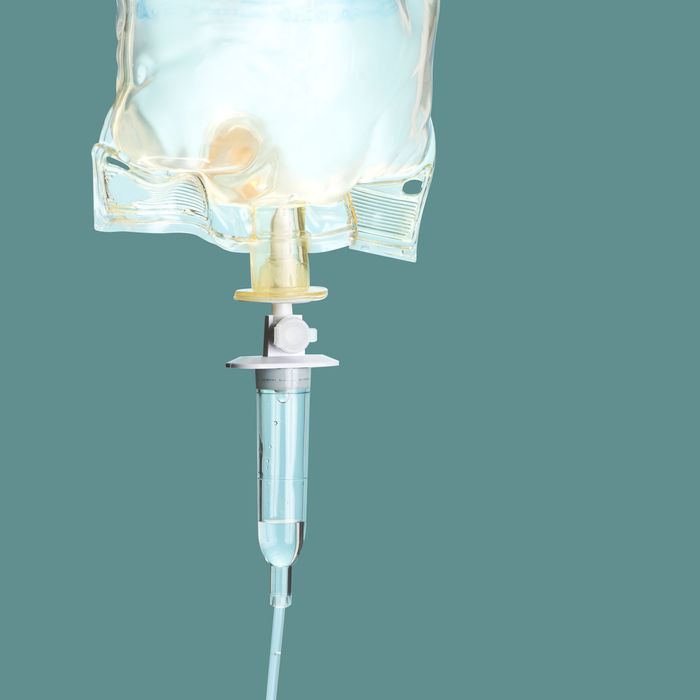 Some needles hurt and some don't. This is not a scientific fact; let's call it anecdotal — anecdotal to me. Botox: painless. Restylane: so nice. Juvederm: stop tickling me. Flu, tetanus, yellow fever: searing daggers.
Needles are big in beauty right now, starting with micro-needling facials that cause tiny wounds, triggering the collagen in your skin to spring into action. Mashell Tabe, a facialist who travels between New York and L.A., offers an excellent needle treatment, rolling a spiked ball not gently over your face while reading your aura (she said mine was strong, like Oprah's!) and showering you with positivity. Rodan + Fields makes a micro-exfoliating roller to use more wimpily at home, without the affirmations.
Vitamin IVs are new to the nice-needle list, as long as they're administered anywhere but in a hospital for any reason other than a medical emergency. IV services are growing in New York City, sometimes at a spa but more commonly delivered by a nurse to your home or office (probably not a wise career move). They pump a solution of saline and electrolytes for hydration along with megadoses of vitamins directly into the bloodstream, bypassing the slow and sometimes sluggish digestive system. The exact vitamin combinations vary depending on your complaint: flu, food poisoning, jet lag, fatigue, malaise, dullness of mind or skin, and, the most common, hangover. In party cities like Las Vegas and Miami, vitamin IVs have been popular for years, with IV hangover buses that travel from hotel to hotel. And in L.A., people are so hooked that they might call you a fool if they find out you don't get regular IVs; you probably eat bread, too. In other words, New York is uncharacteristically late to the vitamin IV game.
I tried IVs for a few weeks to see if they would make me perkier and brighter. Reviv has an outpost at Fluid Water Therapy, a so-called spa that also does colonics in some distant room that I don't want to know about, making it one of the few places in New York, other than a medical office, where you can get an IV. When I see the word spa, I expect, at the very least, a heated bed and lavender oil in a candlelit room. Instead, I was shuffled into what looked like the man-cave of a cramped apartment and sat on a leather couch next to a guy I'll call George, who was already attached to a drip. A nurse asked me a few questions then inserted the needle, painlessly (see above). A video about ocean life played on a big-screen TV with the volume off while George turned his volume high. He and the nurse chattered about George's exhaustion, with the nurse tactfully suggesting he lay off the weekly IVs and try getting a little more sleep. When I left, I felt slightly more energetic in a calm way. Price: $178. Reviv also does home visits for an additional $175.
After booking an appointment online with NutriDrip, a nurse named Isa Bacardi came to my apartment with a backpack filled with supplies, including a telescoping IV pole. She pulled out a bag holding the 60 Minute Cleanse ($349), which contains megadoses of vitamin C, adding a "beauty push" of glutathione. "It gives you glowing skin," she says. Most of the people she encounters call, saying, "I'm getting the flu," "I have the flu," "I just got over the flu." "Or they have a hangover," she says.
That may be why NutriDrip is also called, confusingly, the Hangover Club online. And in that capacity, Isa visited a group of 15 guys from Ireland who were in New York for a bachelor party. She showed me a picture of four of them in a hotel bed, including one who seemed to be sleeping, all hooked up to IV bags.
My NutriDrip session left me bouncing with energy, and I swear my skin looked brighter. But the odor of vitamins engulfed me for a good 12 hours, conjuring up Proustian memories of the time my little brother ate half a jar of Flintstone vitamins. I smelled like that.
My third adventure was in the penthouse of the Standard East hotel, which is converted on some weekends into the Future Spa with NutriDrip IVs in one room, CryoSphere cryotherapy facials right off the elevator, and infrared heat treatments by Higher Dose in the bedroom. I have veins a heroin addict would envy, but the nurse still had trouble inserting the needle and, after several tries, asked a colleague for help. This was not a nice needle. But once I was set up, I relaxed on a couch, gazing out over Manhattan on a sunny afternoon, and that in itself was restorative.
Ass-backwardly, I decided to check with a doctor about the safety and legitimacy of vitamin IVs after I'd tried them. I called Susan Blum, a doctor and founder of the Blum Center for Health in Rye, New York, and author of The Immune System Recovery Plan. Funny you should ask, she said. "I'm contemplating adding an IV service to my practice in the fall." She likes a vitamin IV drip because "it's hydrating, it adds vitamins, and, for people who have fatigue, a lot of mercury, or a lot of oxidative stress, IVs can be a great reboot," she says. "There's an epidemic of irritable bowel syndrome (IBS) and small intestinal bacterial overgrowth (SIBO), which prevent the absorption of nutrients. With IVs, we can give vitamins and antioxidants, bypassing the gut." She thinks IVs also help people who've taken rounds of antibiotics for things like Lyme disease. It effectively counteracts the dehydrating effects of airplane travel and alcohol consumption. How about for skin and beauty? "Absolutely. I can see how that would work," she says.
In the weeks after my IV experiment, three different hairstylists told me my hair was significantly thicker, and one after the other said, "What did you do?" While the results may be anecdotal, I credit the vitamin IVs.