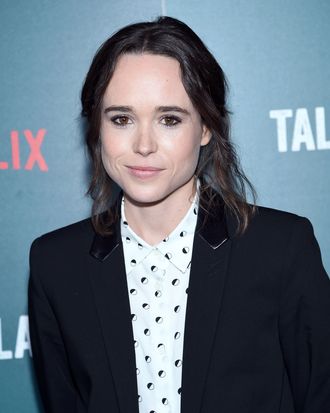 Ellen Page at a Tallulah screening in New York.
Photo: Jamie McCarthy/Getty Images
This week on the Today show, Allison Janney described Ellen Page, her co-star in the new film Tallulah, as present, serene, and Zen. So when the Cut ran into Page at a screening of the film hosted by Netflix and the Cinema Society, we asked how she attains this holy grail of wellness.
"I surf," she told the Cut. "That is something new in my life. I'd say, like a year and a half, so I'm still a person who is learning. That to me has been like, Wow. In terms of stress and anxiety and joy it is pretty awesome. My girlfriend [Samantha Thomas] is a really good surfer, so she has taught me how to surf. It is very romantic."
For their surf-induced mindfulness, the pair regularly hit the beaches in L.A., like Venice and Malibu.
"Every day you go out the ocean is different," she said, in a very Zen description of surfing. "The waves are going to be different, the timing is going to be different, so you can never really anticipate. … I feel like I am always a little bit nervous, even if I have surfed waves bigger than the ones that I see, and you have to deal with that. You have to get in, and you can't really be thinking about anything other than there it is — okay, turn around, ready, up, go, wow. You have no excuse but to be in the moment."