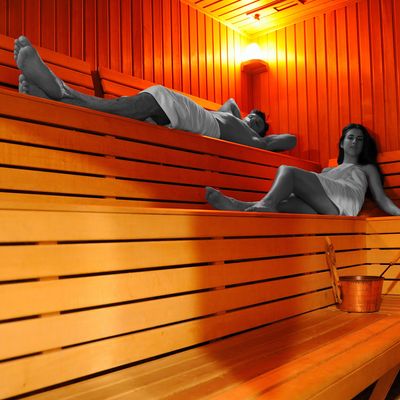 Photo: technotr/Getty Images
Infrared heat is — quite literally — the hottest new health craze in town. Gwyneth Paltrow Gooped about it. Oprah Dr. Oz–ed about it. And now there's Higher Dose, an East Village spa specifically devoted to the cult of infrared-sauna-ing, located in the basement of a pricey herbatorium. Wander down any day of the week and you might catch Leonardo DiCaprio, Michelle Williams, Bijou Phillips, or a scrum of IMG fashion models sweating their sins away in Higher Dose's personal state-of-the-art thermae. Twilight actress Casey LaBow and model Carolyn Murphy have also Instagrammed about it.
"A lot of actors and models become addicted to our saunas because of how much better your skin looks and your energy improves right away," says 31-year-old Higher Dose co-founder Katie Kaps, an ex–Wall Street financier who looks like a rocker version of Mira Sorvino. "It's the perfect thing to do before a red-carpet strut. Or a hot date." The much-touted benefits of infrared heat include weight loss, detox from "heavy metals" or "toxins," increased serotonin levels, muscle-pain relief, and an incredibly smooth and luminous complexion.
Dr. Frank Lipman is a big fan. The Manhattan-based Be Well founder and holistic doctor (Gwyneth Paltrow's guru) claims that infrared heat penetrates the skin more deeply than regular heat, and that the resultant sweating is more profuse, enabling your body to excrete a higher percentage of toxins than with a conventional sauna. "The plentiful sweating you'll do during a sauna session will register immediately on the scale as weight loss," says Lipman. "Most of the weight loss will be 'water weight,' which will return when you re-hydrate. However, there is evidence that infrared saunas, because of their ability to penetrate the skin more deeply, increase metabolic rate and can help the body burn off anywhere from 200 to 600 calories in a half-hour session."
And how, as he proposes, do infrared saunas make you look younger? "They help improve skin tone and reduce signs of aging by stimulating better circulation, blood flow, and increased collagen production — all of which improve the look of your skin. The increased circulation, elimination of toxins, and flushing out of cellular debris enhance overall skin health, giving it a more radiant appearance, without a trip to Sephora!"
Lipman also believes the saunas improve your state of mind, to an extent. "Although the influence on serotonin levels and endorphins isn't a definite result," he says, "spending time in an infrared sauna often results in an elevated and more relaxed mood."
"I fell in love with infrared saunas the first time I tried it," says Kaps. "I felt like I had just run a marathon up a mountain! The buzz afterwards! Like I had purged out all my transgressions. And I've never found a better way to get my skin glowing."
"And the sweat!" says other co-founder Lauren Berlingeri. "So much sweat. I'm drenched every inch after each sauna. Infrared is the real-deal detox. Most 'cleanses' don't actually pull toxins out of the body. Infrared pulls heavy metals, environmental pollutants, and radiation [from] deep within the body that [are] stored in your fat cells. That is why the sweat from our saunas is oily and not salty like typical workout sweat." Normally, whenever I hear talk of pulling toxins out of my body, I know we're in a world of make-believe. What is infrared really, and what do these saunas actually do?
Infrared is a type of light that surrounds us but we can't see. Its wavelength is longer than any shade of red light our eyes can make out. There are three kinds: hot near-infrared wavelengths (from heat like fire or your body), thermal mid-infrared wavelengths (used by the military for heat-seeking missiles), and not-hot far-infrared wavelengths (the ones used by remote controls). In 1800, Sir Frederick William Herschel was the first to discover infrared heat and infrared light (all heat gives off light, so it's po-tay-to po-tah-to). The German astronomer came across the phenomenon while studying the temperature patterns of rainbows he created by shining sunlight through a glass prism. In the 20th century, NASA developed infrared technology. The astronauts use it to take photos of outer space to better detect clouds and heat. Pink Floyd used infrared photography on the infamous pyramid album cover for "Dark Side of the Moon." Art conservationists use infrared to detect underlying layers of paint (how a portrait of a man was made invisible underneath Picasso's "Woman Ironing" and "Blue Room"). A lot of devices use infrared technology, like remote controls and night-vision goggles, and it's even used to incubate premature babies.
Still, I felt a little nervous about my first infrared-sauna experience. I booked a full hour in the sauna and feared it would be like the torturous hot box in Django Unchained. Infrared saunas are not as hot as regular saunas (about 150 degrees Fahrenheit instead of 212 degrees), but still sweltering. And even in regular temperatures I wasn't sure if I was comfortable sitting alone for an hour in a small space.
The first thing I noticed when I wandered downstairs to Higher Dose was the sleek Scandinavian witch vibe. The spare warehouselike basement space is juxtaposed with woodsy stump ottomans and ultramodern but naturalist black honeycomb asymmetrical benches. I was escorted to a private sauna room with giant tropical foliage murals on the walls, towels, lots of water, and a wooden seat covered in a towel inside a human-size glass box.
Health-benefit hype true or false, the saunas are like personal meditation rooms. On the ceiling of each one is an LED chromatherapy light box that you can either manually change to any color you desire, or have automatically cycle through the spectrum. I liked the rainbow cycle best. I spent most sessions supine, staring into those colored lights and feeling not unlike I did a few years back on the floor of the Guggenheim soaking in the James Turrell installation.
Each sauna is also furnished with speakers and a little wooden box to plug in your phone or mp3 player and charge or play whatever jams you like without Siri telling you she's overheated. I became obsessed with finding the perfect infrared-sauna album to warm up and chill out. Didi, the blue-haired tattooed pixie who escorted me to my room, told me she could only listen to binaural beats on her headphones to truly meditate in the sauna. But the saunas are the grooviest private spaces to truly focus on a great album, and I was dead-set on finding the record for the experience. I had the most success playing Brian Eno — both his classic ambient Music for Airports album and his latest release, The Ship, which ends with a super-slowed-down cover of Velvet's "I'm Set Free." It was the exact East Village hot-box out-of-body hour I needed.
When I first left the sauna, I felt dazed, dizzy, and boiled, like a Louisiana crawdaddy. And, boy, was I oily, not salty at all. But after about five minutes, the initial post-sauna stupor wore off, and I felt unbelievably charged and clear-headed. My formerly sore back muscles felt painless and terrific, like I'd just spent an hour at yoga. And I truly did glow. I got lots of compliments that night.
Barely a day later I found myself jonesing for another pass. I've tried the saunas another half-dozen times since my first session, and I'll probably keep going. Even during the heat wave (#HeatDome), I keep craving a fix of that special invisible-light heat. Perhaps the saunas just provide a meditative escape from the grind of the city for me, or perhaps psychologically I need them to keep increasing my endorphins and serotonin levels.
Bran Ferren, a former Disney Imagineering chief who developed the first infrared-suppressing sunglasses (Revo) and has served on government advisory boards for science and technology, is not so sure. "Infrared light is the majority of the spectral content of sunlight," says Ferren. "It's simply heat. So if being under a heat lamp makes you feel warm and cozy — great! The energy in the infrared spectrum heats you up. That's it. If that relaxes you. Great! If it makes you sweat, great! However, all these claims of miraculous benefits are simply without scientific merit."
Some people just can't see the light.