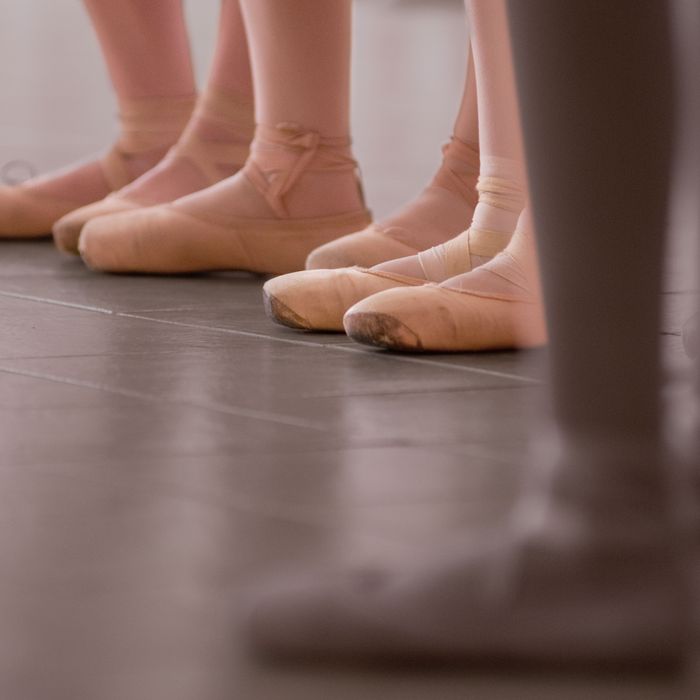 Photo: ESTUDIO MARCELO CATTANI/Getty Images
As she bourrées through an Under Armour commercial, American Ballet Theatre's Misty Copeland looks like the picture of health: all taut muscle and calm, resolute strength. Yet for all the barriers Copeland has broken, the stereotypical image of ballerinas as, well, not exactly healthy in their offstage lives, is a tough one to knock down (portrayals of female dancers as eating-disorder-beset neurotics à la Black Swan haven't exactly helped).
In reality, wellness among women in the ballet world is a complex and evolving subject. There's the constant threat of injury ending an already short career, the mental pressure to excel within an elite company, the physical demands of ten-hour rehearsal days and evening performances — all being juggled by dancers who are in many cases still teenagers. But the reality of dancer health is far less extreme than most onlookers imagine. "When I started working, the culture was one of denial of injury," says Marika Molnar, the director of physical therapy at New York City Ballet and the owner of West Side Physical Therapy. "You really tried to hide the fact that you had any problem. Now, it's the total opposite. People talk about it and they understand it; they take it into consideration so it doesn't happen again."
When Molnar was hired at City Ballet in 1980, she was the first on-site physical therapist at an American ballet company. And while the company's resources are certainly still among the best in the country — the staff includes orthopedists, chiropractors, nutritionists, massage therapists, and more — Molnar says most major ballet companies now have an on-site staff, usually at least including physical and massage therapists. That said, "a lot of issues are not necessarily in the musculoskeletal realm" — the depression and stress that can accompany a chronic injury, and nutrition, for instance — "and they also need addressing."
Molnar regularly attends classes and performances to keep a close eye on the dancers' physical and mental wellness. "Sometimes I'll take a senior member of the company and say, 'Hey, can you check in on so-and-so, see how she's doing?' Or someone will come to me and say, 'Listen, I've noticed so-and-so is looking really skinny, we're nervous about her in the dressing room,'" Molnar explains. "The dancers really look out for each other." And for the most part, they're healthier than their predecessors. "The eating habits have changed dramatically," Molnar says. "It's very different from the old days when they'd all smoke outside for weight control. They know what makes a healthy body, they read about it, they talk about it, they bring food to the theater. They're smart."
All those tools serve different ballerinas to different degrees of success. Below, three past and present New York City Ballet dancers share their personal wellness stories.
The Warrior: Kathryn Morgan
In 2012, Kathryn Morgan looked like the golden girl of New York City Ballet, a new soloist who seemed a muse to artistic director Peter Martins. She was learning Aurora in The Sleeping Beauty — a career high. "But I was getting tired really quickly," Morgan recalls now. "Of course I thought that was because I was dancing Aurora, which is the hardest thing in the world. But then I started putting on weight, which made no sense. I was getting migraines up the wazoo. I couldn't get through class. I was getting really depressed; something wasn't right." The company health staff concluded she likely had mono, but when she visited the doctor, a blood test showed her thyroid wasn't functioning.
Morgan began taking medication and assumed she'd return to her usual trim form. But the next two years, as she describes them, were a battle; in a month and a half, she had gained 40 pounds that wouldn't go away, and she had begun to lose her hair as well. Eventually, she met with Martins and broke down: "I'm so huge. I feel awful. I don't want to be onstage. I need to go home and get well.' He gave me a big hug and said, 'I knew you were smart.'"
When she went home to Alabama, Morgan felt relief and assumed she'd quickly get to the root of her problem, but most doctors didn't take her seriously. "For a normal girl, I looked fine," she said. "But for a ballerina, I didn't look like myself at all. The amount of weight I was gaining at the speed I was gaining it — I would have had to be at home sitting on a couch stuffing my face all day. It was so bizarre to everyone." Finally, one doctor discovered that Morgan had an autoimmune disease: Antibodies in her blood were attacking her thyroid, so that no matter how much she medicated, it refused to work. "It came as a shock; it usually happens to older women, not a 21-year-old," she says. "I'm adopted, so I had no real medical history either. But once we figured it out, we were able to change the medicine, get me on the right foods, and I gradually started to get better."
Since then, Morgan has lost 25 of the 40 pounds she put on and says she's not sure she wants to lose the rest (if anything, now, she's motivated by her upcoming wedding). She's refashioned her career, performing solo gigs (most notably an evening at the Kennedy Center this past year) and starting a popular YouTube channel on which she advises young dancers. When her illness began, "I kind of felt alone, because it wasn't an injury," Morgan says. "City Ballet has the best body-wellness people. But for doctors, I was at a loss. I'm sure a lot of people thought I was making it up: 'Oh, she's just pretending she has a thyroid issue as an excuse because she's eating too much,' which was not the case at all.' But there was nothing to base it off of."
Being forced to perform her own medical detective work also forced Morgan to grow up, psychologically, in a manner that can be difficult within the bubble of a ballet company. "When it was all taken away from me, I had no clue as to how to be a normal person," she says now. "I still haven't decided if I want to go the company route again — maybe, maybe not. But if I did, I would do things differently. I wouldn't be such a bunhead, not doing anything outside the world of ballet. Now, I'm an example to young dancers: You don't have to be stick thin, you don't have to starve yourself. I've been able to rework my technique; it's just a matter of refiguring it out. I feel like I've forged a completely new path for myself."
The Phoenix: Kaitlyn Gilliland
"My first big injury was before my career even started," Kaitlyn Gilliland says. "I tore my cartilage in my left knee, had a big operation for that, and it took me about a year to recover." A year after that, Gilliland joined New York City Ballet as an apprentice; then, she became the kind of corps de ballet dancer who looks headed for stardom, increasingly cast in principal roles. But her health was on a downward trajectory. First, a case of mono; a couple years later, a broken foot that long went misdiagnosed; and finally, a back injury following a rehearsal in which she was dropped by a partner. "Something happened with my back; it went into spasm and started to affect the left side of my body," Gilliland recalls. "We couldn't really figure out what it was. I'd already done the whole therapist and MRI routine, and rather than face that whole circus again, I decided to leave the company."
Gilliland went back to school at Columbia, expecting she'd never return to dance — but she was surprised to find that a total break from the ballet routine made her body feel worse. Diving into a college student's schedule, she became sedentary and sleep-deprived. "Suddenly, walking was unpleasant," she says. "I thought, how did I get here? I went from being an elite dancer to feeling the stairs I had to climb at the end of the day were too much for me. I went from being super conscientious about my self-care to almost neglecting it completely."
She gradually returned to dance, at first because it was the form of physical exercise that felt most natural to her, working with the Columbia Ballet Collaborative. She explored contemporary dance as well. Along the way, she learned a different way of approaching class. "More was not better for me," she says. "Watching other dancers work within ballet class has been really helpful for me to see. The amount of turnout you use, the number of times you do an exercise in the center, how you let it prepare you for the day, versus approaching it as an audition or self-torture for an hour and a half."
Now 29, Gilliland has, unexpectedly, found a second career that blends ballet and modern dance; currently, she's a member of choreographer Twyla Tharp's core troupe. Her approach to nutrition, she says, is the one thing that hasn't changed much between the two phases of her career. "More than anything, I want to know how my body is going to feel during the day," she says. "If I eat something foreign the day of a performance, or too heavy before a rehearsal, it feels as if I'm inhabiting someone else's body. A solid eating routine is important to me." She's now able to look at her physical difficulties at City Ballet with some perspective. "It's a really fine line with dancers," she says. "Our training is so rigorous and specialized; what we think we know is good for our bodies or not, we have to decide how much we're going to sacrifice for that, and no doctor or therapist can decide that for us."
The Superstar: Tiler Peck
At just 27, Tiler Peck is considered one of the great modern American ballerinas, known for her crystalline technical work and musicality. She's a can-do-anything kind of dancer, and choreographers know it: In season, it's not uncommon to see her dance principal roles in two or three ballets per evening; out of season, she regularly performs gigs elsewhere.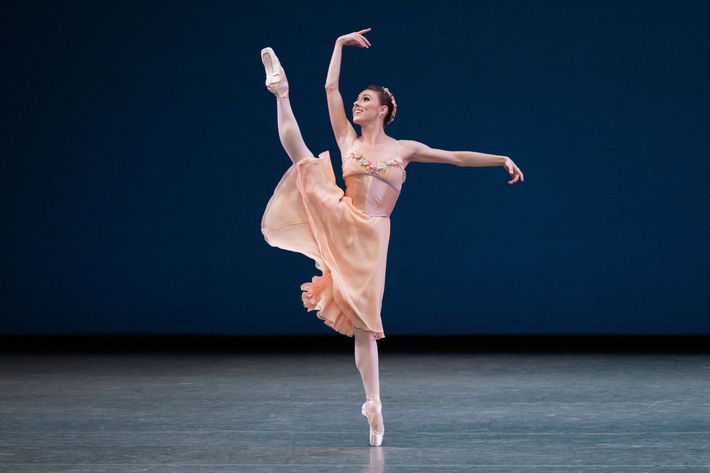 That means she has to be extra careful not to overwork her body — a lesson she started to learn at age 18 when, just as she was promoted to soloist, she suffered a lower-back stress fracture that some doctors said could end her career. "When you're young, you think it's the end of the world," Peck says now. "Then you realize, taking a week off is better than having to be out for a year." She took a total of six months off, three back home in California. "I didn't want to be around the schedule, knowing who was doing my part — that could have forced me back earlier than I should have been," Peck says. Instead, "I literally laid on my back with my feet at a 90-degree angle, all day long. And it healed."
Peck realizes now that the injury stemmed from overuse. She no longer says yes to every gig that comes her way, and she balances a social life with acute attention to her physical well-being. Her diet is based on an "everything in moderation" philosophy, and, like most of the dancers, she'll take a 15-minute physical-therapy session each day; on her day off, she'll do Pilates, focusing on lengthening and stretching. After a performance, Peck usually goes home immediately to take an Epsom salt bath and elevate her legs to relieve any nerve pain. "It's really hard — I want to go out!" she says with a laugh. "But once you have a serious injury, you learn from then on how to take care of your body. You only get one body; you have to take care of it."