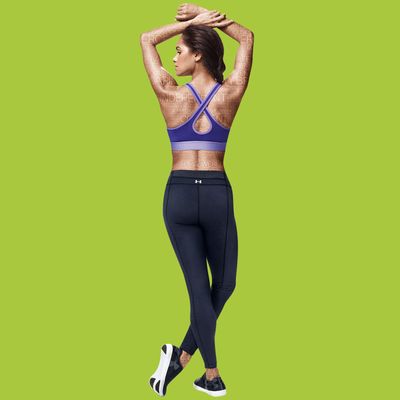 Misty Copeland wearing Under Armour's new crossback bra.
Photo: Courtesy of Under Armour
Labeling Misty Copeland a prodigy isn't blown-up hyperbole; it's a fact. She launched her ballet career at the age of 13 (geriatric in ballerina years) at a Boys and Girls Club and within a year skyrocketed to national acclaim. Last year, she became the first African-American woman to achieve principal status at the American Ballet Theatre. Through it all she's become an author, executive produced her own documentary, and led the clarion call for diversity in ballet.
On the heels of Under Armour's newest launch, a crossback bra, the Cut caught up with Copeland. The brand spokeswoman talked about how body types in ballet are evolving, how Instagram has become so important to her, and why she rejects the word celebrity.
Under Armour's campaign is all about support. What has been the most significant source of support in your career?
I've struggled with body-image issues and finding a way to fit in and create a new path for the typical body type of a ballerina. I've had so many issues throughout my career finding the right support — even in something like finding leotards to fit a larger butt. But beyond the physical, I've had incredible mentors throughout my career that have gotten me to this place. In the beginning, my first ballet teacher Cynthia Bradley was the person who discovered me and took me into her home so I could get the right training and become a professional dancer. As an adult, Susan Fales-Hill and Victoria Rowell were two incredibly strong black women who were there at times when I had so many doubts and struggled with body image issues and being African-American in an elite company that was mostly white. And then of course Raven Wilkinson, who is an African-American ballerina who joined the [Ballet] Russe in the 1950s. Just to be able to see someone like her who succeeded, it changed my mind as to what was possible for me.
People in underrepresented groups sometimes credit positive pockets online and in social media for their source of community. Have you found this to be the case for you and ballet?
I have so many fans and young girls on my Instagram and Twitter feed who have such positive things to say about seeing me and how it's kind of changed their path. I met a girl yesterday who said that she was going to quit dancing, but then she read my book and changed her mind because she could see that her dreams were still possible. It's amazing that this generation of young people can find that support online. Inspiring other people is something that I'm always conscious of when I post things. I always aim to show a positive example of what is possible, even with all of the Under Armour photos that I post. I want to show young women that it's okay to be strong and to be an athlete and that it's not just for boys. We should be seen equally and be given the same opportunities.
What do people get wrong about you?
I hate the word celebrity. I don't like the use of that word and I think that some people think that I'm using my career for the celebrity aspect. That's so completely the opposite of how I view myself and my purpose.
How do you work out?
I don't think people understand all that it takes to create a ballerina body. This craft is structured in a way where you really don't have to do other things. When I'm in my off seasons I'll do other cross trainings, but when I'm in season I'm in ballet class every day, rehearsing for eight hours. The ballet technique is so smart and beautiful and for hundreds of years it has been able to create strong bodies that look beautiful all on its own. Off season, I take Pilates floor mat classes, Gyrotonic on the Reformer, and run on the elliptical machine for cardio — I don't use any resistance because I tend to bulk up quickly.
How do you nourish your body?
Diet is also such a huge part in what it takes to be a top athlete. It's about taking into consideration everything that you put into your body and really using food as fuel, rather than empty calories that we just enjoy the taste of. I eat pretty lean and clean. I cut out red meat, chicken, and pork. I'm a pescatarian, so I eat mainly fish. I go vegetarian on some days as well. I eat what I enjoy, but it's all about how much I eat. The portion sizes are never too big, and if I'm full, I will stop. If I'm not starving, I'm not going to force myself to eat a huge meal. I just try to listen what my body needs, and it changes all the time. Last season, I craved more protein. Sometimes I need to hydrate more. It's all about listening to your body and responding to that.
What are your favorite vitamin supplements?
I wish I could think of the brand, but I take calcium supplements which are really important for dancers with the impact we put on our bones just from jumping. For me, I'm prone to fractures. I was out four years ago with a severe injury to my tibia. I also take vitamin D.
Do you meditate?
Not in a conventional way, where I'm sitting in a yoga pose and my eyes are closed. It's really about finding moments in the day that are for yourself. Ballet class is a form of meditation for me. It's something that I do every single morning, and it's nice to have a space in time where your body knows that you're working to become stronger. There are times before shows where I put on music and focus on my breathing just to stay calm and not get too nervous about the performance. I always try to find less conventional ways to clear my mind.
Do you think the idea of what a ballerina body looks like has changed?
Over the course of different generations, the ballerina body is constantly evolving. In this day and age we do a lot more contemporary and athletic movements that create a more athletic physique. With the conversations that I've opened up, people are more open to expecting the different body types that exist. Also, if you go back to the 1930s and '40s you'll see these ballerinas that had really soft physiques — they didn't have muscles, they weren't six-feet-ten, and had big breasts — but that changed through the '60s and '70s when ballerinas got really thin. Now people are more open to the concept that dancers come in all shapes and sizes.
Is it taxing on you to constantly be at the forefront of presenting this more modern physique?
It's something that's been needed, especially in the ballet world. It's necessary for me to have a voice and I don't mind speaking up about it as much as I do, because everyone can witness the positivity in seeing someone who looks different from a typical ballerina. When it comes to race — and that's something that I'm very open about — a lot of the language that's used is filled with hidden innuendos to what these people are trying to say. When they tell African-American and minority dancers that they don't have the right body type, a lot of that is a way of saying that the color of your skin doesn't allow you to fit in.
What does it mean to you that you are the first African-American woman principal in the American Ballet Theatre?
It's amazing to be able to be this symbol to what's possible in classical ballet and at this level. I don't think of it as me, but as what I represent and all of the people that came before me that were never given a chance to have the opportunities that I have.
This interview has been edited and condensed.