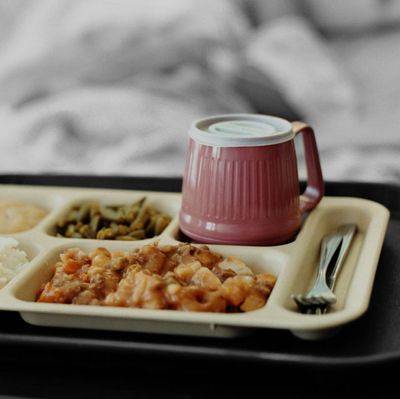 If you believe that food can be medicine, most hospital patients are getting screwed. But future patients at Ottawa Hospital will get better-tasting food now that their food managers have actually tried the stuff.

It started when volunteer patient-advocate Gillian Wallace emailed the hospital CEO to complain about the quality and taste of the food, the worst of which includes a "soggy" chicken à la king, Salisbury steak served in "a pool of brown liquid," and scrambled eggs, which she described as a "yellow puck of sadness." Wallace told the Ottawa Citizen that after she had surgery, her doctor said: "Don't eat that sh–. Get your husband to bring you some food."
She challenged administrators to eat the food for a week. Apparently they've recently done just that — three meals a day for a week, fully committing — and they were not impressed. CEO Jack Kitts responded by saying they plan to revamp the menu to include salads, fresh sandwiches, and more grains like quinoa. They've already nixed french fries and other unhealthy foods from the cafeteria where doctors and family members often eat.

Hospitals have to balance feeding people with chronic conditions alongside otherwise healthy patients who, say, develop an infection and have no dietary restrictions. But even if someone is on a special diet that's low in salt or sugar, that doesn't mean the food has to be bland, soggy, or gross. If it's healthy and tastes good, the hospital is likely to throw out less. And people might just feel better.