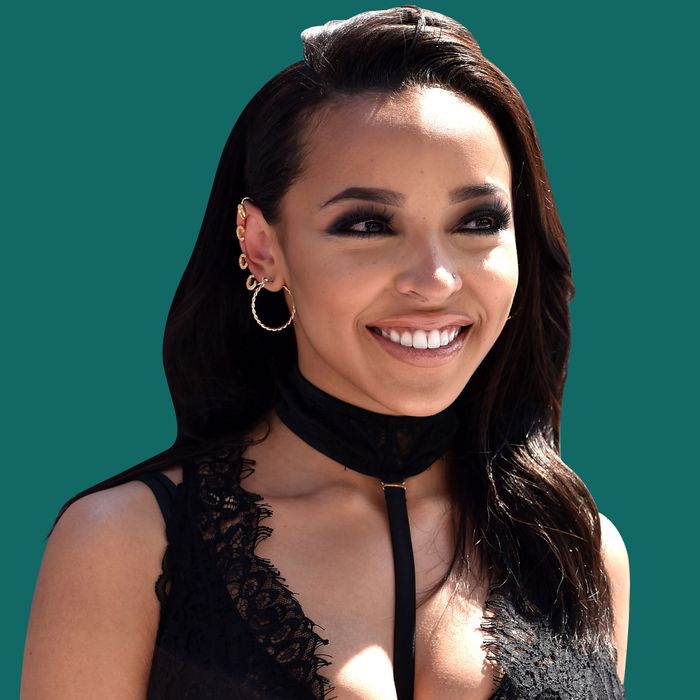 Tinashe.
Photo: Getty Images
While Justin Bieber was transfixed on catching the elusive Pikachu this week, his former tour-mate Tinashe — the pop princess and rumored new girlfriend of Calvin Harris — was releasing a contender for the song of summer. At 23, Tinashe is known for a disciplined work ethic that would embarrass the hungriest young chump in Manhattan. She lives in the home she grew up in, along with her parents and siblings, and can literally kick your ass: She has a black belt in Tae Kwon Do.
The Cut spoke with Tinashe about how she balances the hubbub of celebrity life, and learned that she eats terribly, swears by an infomercial cleanser to fight acne, and believes water (shocker) is the root of all things good.
How I start my day: I usually work out in the morning. I'm never hungry right when I wake up. Usually I'll do Pilates or something in a class for maybe an hour. It's a nice "wakeup" workout. Then I come home and that's when I really get ready for the day. I eat a late breakfast at like 11. I like an old-fashioned breakfast, like bacon and eggs, so I'll make that into a sandwich. It gives me a lot of energy.
How I like to sweat: I do different workouts but Pilates is what I love to do in the morning. In the afternoons, if I have time, I'll go on hikes or running. I do a lot of dancing as well.
What wellness means to me: A general state of health, whether it's physical or mental. It's being in a great place of overall happiness.
How wellness has changed for me: Before I used to look at wellness in a black-and-white light. I thought it was only about nutrition and exercise, but it's so much more than that. To be a "well" person you need to be in a good state of mind and do the things that genuinely make you happy and your body happy and healthy.
My biggest wellness struggle: I don't eat very well. When I go on the road it gets way worse because of schedules and a lot of times we're eating late at night. It's hard to maintain a good workout schedule and good nutrition because I'm forced to eat diner food or just generally crappy food. It's way easier to keep a better routine at home.
My wellness shortcut: I try to always find some sort of routine and schedule. When you do that it holds yourself more accountable, whether it's trying to get into a gym a few times a week, or something like that. It's the little things that are important.
What I think about meditation: I don't do it regularly, but I do enjoy it. My mom meditates every day. It's such a great way to center yourself and give yourself room to concentrate and have thoughts.
My wellness advice: Drink a lot of water and make that your main beverage. It's such a big and easy step to cut out a lot of bad stuff, whether it's caffeine, soda, or sugar. It's such an easy shortcut that anyone can do.
How I end my day: I always take off my makeup, wash my face, and put on moisturizer before bed. I love Aveda products and Dove moisturizers. I use X Out to wash my face — that stuff is actually really great. I also braid up my hair.
This interview has been edited and condensed.