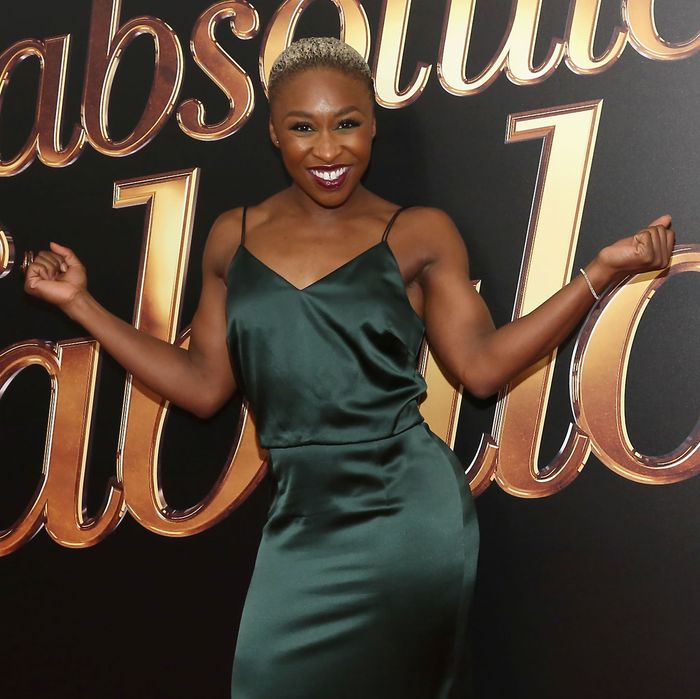 Cynthia Erivo at the Absolutely Fabulous New York premiere.
Photo: Sylvain Gaboury/Getty Images
In a scene from the Absolutely Fabulous movie, Eddy wonders why her treatment with stem cells from a 2-year-old child's blood hasn't worked magic on her face, while Patsy injects filler directly into hers.

At the film's New York premiere on Monday, the two stars said that in real life they don't partake in any wellness treatments, wacky or not. "We're very, very unhealthy," Joanna Lumley said. "We are, healthy or unhealthy, grandmothers, so we are very, very opposite of these two fabulous women," said co-star Jennifer Saunders, who also wrote the screenplay.
Others at the premiere discussed their wellness habits. "Meditation, yoga, working out, and eating well. That's my wellness," said Tony winner Cynthia Erivo. "And I think occasionally you have to treat yourself, so if you do need to take yourself shopping, go take yourself shopping," she laughed. Maintaining a fitness regime while doing eight shows a week in The Color Purple is not easy, and now Erivo has added running — she's training for the New York Marathon. She runs early in the morning and just before her show on matinee days, Wednesday and Saturday. "On Monday I do a recovery, and then every other day I do a workout with my trainer." Sunday is for yoga.
Drag artist Lady Bunny loves the Qigong Tui Na massages at Your Spa in Chelsea. "You feel your eyes are rolling back in your head afterward, almost as if you need someone to pick you up, as with a surgery. Because it just releases something, where you're like a cat that's had its ears scratched in the right place," she says. "So yes, I recommend that highly. It's a very stressful world, everyone's at each other's throats on social media, people are dying, horrible candidates."
"We work out, we diet, and, you know, the occasional water pill," said David Blond, of the Blonds fashion label. "The occasional water pill always works," said Phillipe Blond. "For the cheekbones. For the extra suction."
Chris Colfer tried a juice cleanse once, during his first year on Glee. "No one told me it had to be healthy juice, so I was going to the store and buying sugary juice, and just drinking, like, cocktail cranberry juice all day," he told us. He ended up gaining weight. "Since then I've just given up. I run on the treadmill, and that's all I do to help myself," he said, laughing.