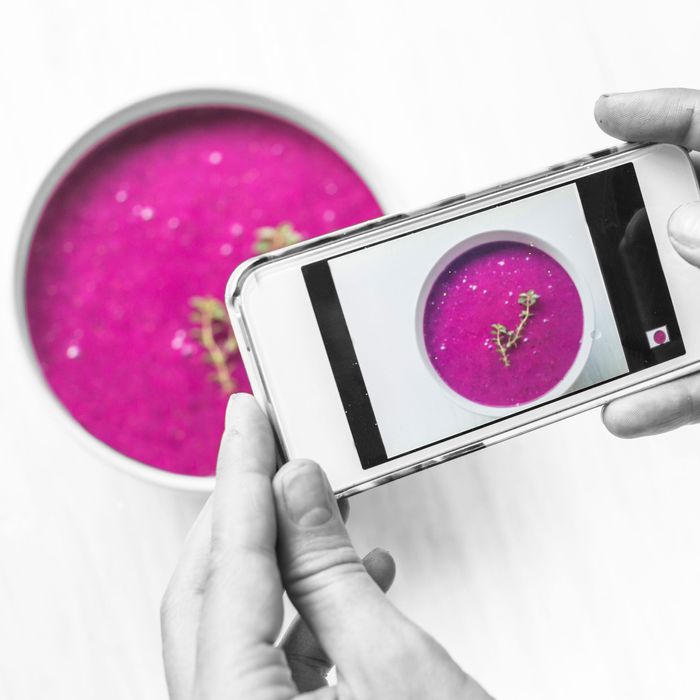 Swell.
Photo: Getty Images
Instagram is a wonderful tool for many things: You can stalk exes, DM strangers, stoke the flames of lifestyle envy — and yes, you can also use it in healthy ways, like finding new recipes and workout ideas.

We rounded up some of our favorite wellness accounts, which will tell you everything from the right way to do a pushup to the right way to eat bee pollen.
Jessamyn Stanley, @mynameisjessamyn: Yoga teacher and body-positivity advocate, Stanley's Instagram account is filled with yoga positions, videos of sequences, and advice on thinking about how you feel, rather than how you look.

Robin Arzon, @robinnyc: Robin is a senior instructor at Peloton, a street athlete, and a former lawyer. She's also the author of Shut Up and Run. Follow her for inspiration.
Jeannette Ogden, @shutthekaleup: The yoga instructor and new mom has a taste for mouthwatering sweet-potato recipes and Top 40 rap.
Michelle Tam, @nomnompaleo: You won't see very many smoothie bowls on Michelle Tam's account: Her Paleo recipes for Asian meatballs and Japanese egg custard provide some relief from Instagram's acai-bowl ennui. She draws on her cookbook Nom Nom Paleo, plus the other dishes she cooks day to day.
Black Girl In Om, @blackgirlinom: Founder Lauren Ash created Black Girl In Om (BGIO) to foster community and give women of color a space to breathe easy through holistic wellness and self-care.
Mikaela Reuben, @mikaelareuben: This nutrition consultant and chef serves up photos of sunshine-drenched flowers and salads loaded with sprouts and pickled vegetables. (Past clients include Whitney Port and Owen Wilson.)
Joe Wicks, @thebodycoach: Kind of like all those hypnotic dessert videos on Facebook, except actually healthy. From stuffed peppers to quinoa-protein pancakes and even pineapple fried rice, his food makes you hungry, and excited to start eating healthier.
Emily Skye, @emilyskyefitness: When you're stuck in a rut at the gym and aren't sure how everyone around you seems to know what they're doing, head to Emily's Instagram. Her simple, straightforward videos will leave you sore for days.
Rochelle Bilow, @rochellebilow: Lots of running, vegetables, and yoga poses. Although she works at Bon Appétit, she depicts a grounded life — and before she moved to New York, she lived on a farm!
Dana Shultz, @minimalistbaker: A dream for lazy cooks, gluten-free converts, and clean freaks. Dana's recipes are made with ten ingredients or less, in one bowl, and take 30 minutes or less to prepare. Most are gluten-free or vegan, and they come with stories as well as concise instructions.
Carly Gross, @carlymorgangross: As a holistic nutrition coach, Carly's recipes include some interesting ingredients — like bee pollen and chaga — to balance out all the familiar greens and mangoes. She's got a refreshing take on enjoying meals and being in tune with your body.
Loni Jane, @lonijane: The mother of two and tropical food goddess is also the author of Feel the Lean. Her approach to food comes from a struggle with unhealthy eating in her early 20s. Now a mostly raw vegan, her bright-pink smoothie bowls and tofu-filled salads are interspersed with photos of her children and travels.
Daphne Cheng, @_daphnecheng: Daphne is a vegetable-driven chef whose creative plating sometimes steals the show in her cooking. Currently the executive chef at East Village tiki bar Mother of Pearl, she shows off photos of sunshine punch and Hawaiian fried pancakes.
Lulu and Louisa Stelle, @rawandroasted: Between London and Manhattan these sisters advise you on what to order at restaurants around the world.

Remi Ishizuka, @rrayyme: This fitness blogger shows her progress through photos, but also provides a motivational space to speak to other women about their fitness journey.
Sian Marshall, @sianmarshallpilates: If you always scroll past Pilates classes on your ClassPass app, Sian might have you changing your ways. Her simple videos emphasize core strength — they'll have you wishing you could move like her.
Akin Akmin, @akiniko: Not only is Akin a trainer, he's a model. Whether he's sharing videos of fashion shoots with Gigi or hydration tips, his feed will keep you wondering how he got his physique. (Hint: SoulCycle.)

Meagan Kong, @meagankong: Forget whatever you thought a dancer's life looks like, and meet Meagan Kong. She posts about falling in love with boxing, discovering new herb-filled almond butter, and nabbing Adidas gear.
Alex Elle, @alex_elle: Wake up and scroll through her feed, and your mind might feel a bit more open than it did yesterday when you jump into your daily routine.
Ida Frosk, @idafrosk: Ida takes playing with food to a completely new level. And with no waste! When she makes a bumble bee out of apples or a mountain out of broccoli , she puts it to good use.

@talkingfood: Disclaimer: Not all of the foods on here are healthy, but the majority are. And raw. And unprocessed. So go ahead, tag your friends in some puns about olives and Ghostbuster peppers.
@thedelicious: Never will you ever crave avocado toast more than when it's on a sprouted-flax waffle with an egg and chopped pickled onions. Sarah's photos are bursting with color (especially greens).
Sarah B, @mynewroots: Her Instagram feed is a great place to start if you're trying out vegetarian living. Recipes include "blushing smoothie bowls" and plates that look like rainbows, with sautéed tempeh and edible flowers.
Liz Moody, @sproutedroutes: As a wellness blogger who emphasizes color and layout, Liz is also writing a cookbook. Her Instagram documents everything from healthy options at Smorgasburg to truffles that we would take over office cake any day.
Anna Victoria, @annavictoria: Like many Instagram trainers, she also has a 12-week exercise guide, in which she shares results from her clients. Look for her food photos, featuring cameo appearances by her tiny dog.
Paloma Elsesser, @palomija: This new Nike model is the one to follow when you're debating posting a selfie, or looking for some good throwback athleisure inspiration. We have a feeling we'll be seeing more of Paloma, even beyond the new Nike ads.