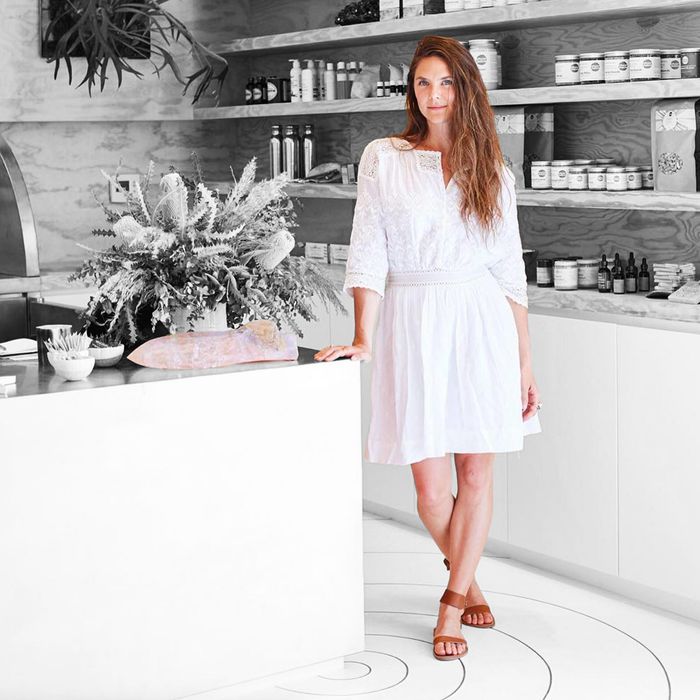 The Moon Juice founder will not be broken.
Photo: moonjuiceshop/Instagram
Last month, juicing czar Amanda Chantal Bacon took to Instagram to report some truly disturbing news. No, not that she made this chia-seed pudding in a gluten-free cone — the rose-quartz crystal from her Moon Juice shop's Silver Lake location had gone missing. (Quelle horreur!!!) Musician Father John Misty took responsibility for the theft in a troll-y Instagram post — though we have some other ideas about who the culprit might be — while Bacon stayed silent on the matter.
But while Bacon was lying low, she was also waiting, watching, and working (and maybe lighting some Father John Misty voodoo dolls on fire). This was a woman with a plan, a stockpile of maca powder and shilajit resin, and possibly a copy of The Art of War. As of Thursday, she revealed some news on Instagram: Moon Juice had opened a new Melrose Place location, and she had a giant new crystal to go along with it. In the photo, an ethereal-looking Bacon stands in her shop, hand firmly on the table, enormous crystal right next to it, a serene and satisfied smile on her face. This is a woman who knows that, while she may have lost the rose-quartz-crystal battle, she's definitely won the war.
Your move, Father John Misty.