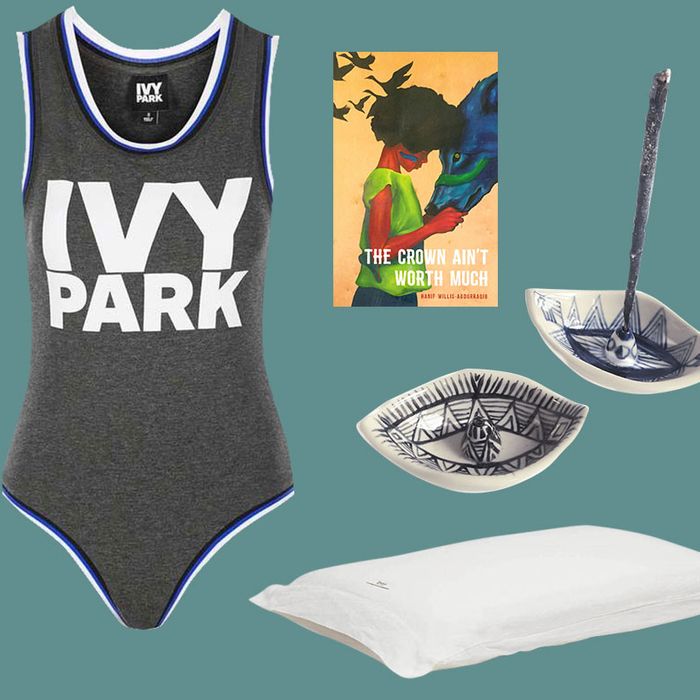 Bloop is a joint venture between Aminatou Sow and Jenna Wortham. Bloop is a combination of "black" and "Goop" —  basically, what it would be like if Gwyneth Paltrow's Goop were written exclusively by and for black women.
Bloop baes! How's summer treating you? You still out there looking cute and shit? We're not going to kid you or ourselves — these are dark and disturbing times. The hate and death in our feeds is wearing us down. We feel it in the slump of our shoulders; we see it in the lines under our eyes and feel it in the creak of our bones. When we feel that way, we turn to self. Self-love, self-care, self-worth.
It's a good time for it, too: This month, we enter a new moon in Leo. Bloop babes love the astrological insight of Chani Nicholas, who says this is our time to shine: "May this new moon radiate the warmth we need, thawing any part of our humanity still frozen, frightened or locked in fear. May this season warm the seeds of our potential, awaken our intelligence and activate our evolution." Cherish yourself because there's only one of you, and we need you!
We've got you covered, inside and out, for all of your wellness needs.
Sleep In
A wise woman once said that "sleep is the Kardashian of wellness," and we see no lies. You need to care about your sleep, worry about it, and spend a little money on it, if you have to. First step: Upgrade your mattress. Going to the mattress store is a real drag, and, honestly, you don't get a real sense of what that new mattress will feel like after ten minutes of lying on it. Don't be afraid to try those new fancy online tech-y ones like Casper, Tuft & Needle, or Keetsa. Their return policies are A-plus, so you have nothing to lose by giving them a try. Next on the upgrade list is sheets. So so so crucial. In the summer, we only fuck with linen sheets. If you didn't already know about dressing your bed seasonally, now you do.
Get Dressed
Facing difficult times feels easier in comfortable clothing: We highly recommend wrapping yourself in these deeply discounted kimonos from Zara or splurging on a silky robe from Agent Provocateur.
And who can forget about Ivy Park? Still poppin' six months later. Thank you, Mama Bey!
Turn Up
Lit doesn't even begin to describe the vibe at African dance parties. It's all in the waist, really, and you get a hell of a workout. You can practice at home via Scola Dondo's fun Afrobeat workout videos. Guaranteed to improve your mood and leave you glowing.
Decompress
Vitamins get all the glory, but don't sleep on minerals — especially that magnesium sulfate, a.k.a. epsom salts. You can find them in health-food stores, but, really, any regular CVS, Walgreens, or Duane Reade will have them, weirdly next to the diarrhea meds. They're so cheap! Soaking in epsom salts at the end of a long summer day is a great way to get your Zen back. Seriously, try it! Or just soak your feet if you don't have access to a tub. Money-back guarantee if this doesn't take all of the aches and bullshit from the day away.
Love Yourself
We over at Bloop almost fell over while browsing the latest ESPN Body Issue. Did you know Dwyane Wade sometimes feels insecure about his physique? DWYANE WADE. CHOSEN BY QUEEN GABRIELLE UNION! Honestly, it just serves as a good reminder that everyone is on their own body journey. It can be tough to feel posi about your body in the summer, and we can all be kinder to ourselves. If you're constantly comparing yourself to everyone you see online, stop. Social media is a lying devil. Follow people and media that make you feel strong and good about yourself. Indulge in every aspect of summer. Wear clothes that fit; don't keep anything in your closet for the body you wish you had. Even Gucci's out there spreading the gospel of health and self-care. We're really all in this together.

Jet Set
Traveling can be exhausting but it doesn't have to be that way. If you can afford the time and the money, it's worth taking a solo retreat to wellness meccas like Esalen or Miraval. Our favorite thing to do, though, is find somewhere close to home base that still feels like you made an effort to escape. Try Travel Noire, Hitlist, and Hopper for ideas. Airbnb and the internet are also useful in this search, but really just ask your friends for recommendations. Leave your work at home, enjoy some deep exfoliating treatments. You can DIY those, or splurge if there's a spa nearby, since, as we always say: SCARED MONEY DON'T MAKE MONEY — or, sleep in, make a smoothie every day, catch up on your reading … whatever makes you happy, present, and relaxed.
Get Smooth
Speaking of smoothies, this very, very simple recipe is a current fave: 1 cup slightly thawed frozen strawberries, 1 banana, 2 tablespoons light coconut milk, 1 teaspoon lemon juice, 3/4 cup water. Throw some ice in the blender and you got it. There's no math to smoothies, just put stuff you like in it and if you have chia seeds or bee pollen or whatever, then throw that in too.
Listen Up
Tuning in to the right frequencies, literally and figuratively, is a method of healing. In an interview with The Fader, Chicago artist Jamal Moss described the music he makes "as personal therapy." His soundscapes are completely transformative, with shades of Sun Ra and '90s techno, and live up to his promise of a way to "renew through music." This super-wavy mix by the #KUNQ collective is also similarly soothing, and knowing it's made by a new fave, a collective of queer artists (including FXWRK, SHYBOI, Batty Jack, Stud1nt, False Witness, Rizzla), makes it even more restorative and special. And when you're done with those, toss on "The Devil Be Tryin," a new track from Iman Europe, a California-based singer and songwriter.
Smoke Out
Sometimes, all you need to get your head right is a hot-box situation at your leisure. Here's our (legal) pick: Copal incense is a natural resin derived from Buresa trees, which are considered to have medicinal properties and used for clearing the body of diseases and cleaning out evil. Its smoke is used to alleviate stress and bad thoughts, clear energy blockages, and keep mosquitoes away. Win-win-win! You can buy it on Etsy for cheap, and if you wanna be fancy about it, pick up one of these incense holders to burn it in.
Tune In
Have you ever had a weird, blissed-out cashier at a holistic health-food store simultaneously freak you out and blow your mind with her incredibly intuitive observations and perspective about the world and learning to cope with it? That's basically what Tara Brach is for us. Tara regularly drops bombs like "We survive because there are natural periods of wholeness and ease that sustain us," and "When we're not trying to control anything that's what gives us a taste of what is possible," and "Resisting stress undercuts our ability to grow — the domain is asking for a more evolved response." She's legit AF: She's a therapist who teaches her clients to meditate and use mindfulness as a strategy to deal with the agony of modern living, and you can soak up all of her learnings via her site, YouTube, iTunes — for free. And if that's a little too crunchy for you, we feel you, no shade. It's a lot. And, honestly, sometimes laughter is just the best medicine. We guarantee you'll feel much better after listening to Jessica Williams and Phoebe Robinson of 2 Dope Queens crack jokes and shoot the shit with all of their fave lady comics and friends. Take two doses, and call us in the morning.
Tune Out
The value of tuning out cannot be overrated or understated. Bloop-babe faves for the summer include Ghostbusters (if you haven't already, go and support our faves Leslie Jones and Kate McKinnon, who shine so bright you gon' need shades) and the comforting nostalgia of Stranger Things, Netflix's new super-throwback sci-fi drama.
Ima Read
Ms. Simone said it best when she noted that "an artist's duty, as far as I'm concerned, is to reflect the times." That's one of our key strategies for dealing with these turbulent months. This piece called "Ecstatic Resilience," by Sable Elyse Smith, hits the spot in more than one way: "The 'party' is about a moment of suspension … It is without those small deposits of rage. It is without because even the sweat releases something from the body." Also on our must-have list: collections from Hanif Willis-Abdurraqib and Morgan Parker.
Save Money
You probably forgot all about Groupon, but it's still alive and kicking and a great way to get discounted treatments to mend the body and soul. If you need a massage or facial to feel like you're taking care of yourself, we're not here to judge you — we're just here to help you do it in a way that won't break the bank. We've gotten two-for-one massages, half-off eyelash extensions, and affordable acupuncture using this nifty hack. Do what the Bloop babes do: Save your coin for diamonds and Armani suits, Adrienne Vittadini, and Chanel 9 boots.