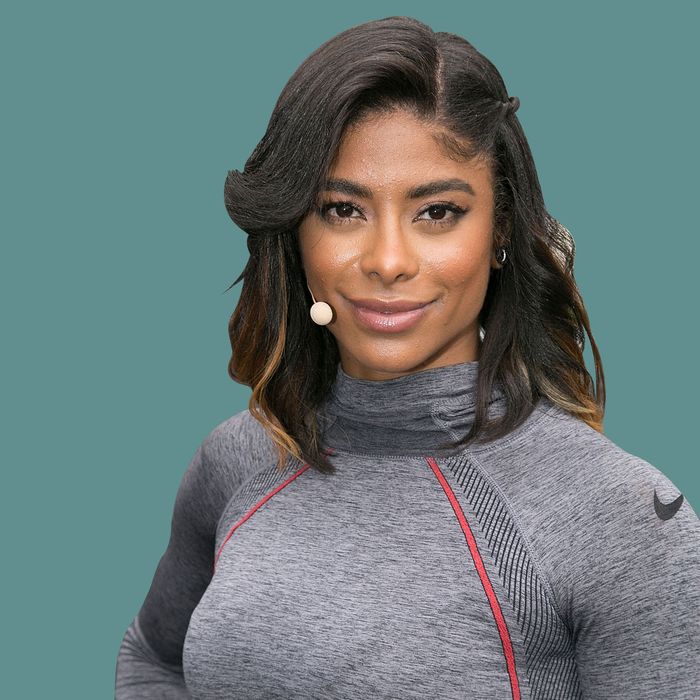 Massy Arias.
Photo: Getty Images
Los Angeles–based fitness coach Massy Arias has attracted a devoted following on Instagram for her daily workout videos and motivational posts in Spanish and English. Born in the Dominican Republic, the 27-year-old moved to the United States with her family at age 13. Several years later, her brother was diagnosed with cancer, and Arias found herself in an abusive relationship. Struggling with severe depression, she turned to exercise, and began charting her experience on Instagram. Now, with a Latina magazine cover, Today show appearances, an L.A.-based personal-training business, and 2 million Instagram followers, the fitness guru sees herself as a fitness coach and an activist. The Cut talked to Massy Arias about coming to terms with her body, her decision to get breast implants, and how she beat her depression with exercise.
How do you start your day?
My day starts at 5:30 in the morning. I have a green tea and I get ready to go to the gym. I might have a smoothie, then go and get my workout done. I am behind a computer for a couple of hours, and then doing work with all of my clients.
You often post on Instagram about your meal prep. Is that part of your wellness routine?
Yes, I do a meal prep every Sunday so my food is ready for me. I used to eat out a lot, and realized I was spending tons of money. Meal prepping is not as hard as people think — you just have to have a system.
What is your beauty routine like?
I use coconut oil to take my makeup off, and I use Shea Moisture black soap to make sure I'm not breaking out — it doesn't irritate your skin as much as other black soaps. As soon as I stop sweating, I just wipe off my chest and my face. When it comes to my hair, I use the Shea Moisture black castor oil to moisturize. I also take multivitamins — good skin comes from within. I take a power green multivitamin from this vegan company True Supplements. It has all the vegetables and fruits you need on a daily basis.
How much water do you drink a day?
Probably a gallon a day. But it's all about your activity levels. When I say a gallon, that includes if I have a protein shake or I make a smoothie. On a resting day I might do three liters. I infuse my waters, so it might be cucumber and cilantro, which is a purifier, or I might do orange peel with strawberry and mint, or ginger.
You recently told Latina magazine that you "felt like a failure" for being slender once you realized your boyfriend was cheating on you with "curvy Latinas." When did you make peace with your body?
Throughout my fitness journey, I have been super-petite and I have been super-muscular. I have done competitions where I've been super-shredded, but right now I feel the most comfortable. It has come with accepting the fact this is me, and this is my body, and structurally there is nothing I can do about it. In 2012, I did have a breast augmentation. I look back and I don't regret it. I did it because I wanted it, I wanted to feel a little more feminine because I had developed a very masculine sternum. But I came to realize that as long as I am happy, no one could make me feel bad about how I look.
You've said you started to work on your body to take care of your mind. When did you have that realization?
From the beginning, I saw exercise as the only thing to put me in a right state of mind. It took me a while to change my lifestyle. It didn't come right away, but the more I did it, the more I challenged myself, the more I went out of my comfort zone, the more I really pushed myself, it gave me a sense of excitement. This fitness lifestyle is not only about looking good and feeling good mentally; it also gives you so much structure. I just try to do better than I was doing the day before, and have short-term goals every week that are achievable and sustainable.
How much do you find you have had to work out to manage your depression?
Exercise is just one of the tools to help you get out of the depression, but this lifestyle really gave me the push I needed. I spent seven months in a dark room not doing anything with my life, and exercising had me going outside. Keeping your mind entertained with another task — that is something exercise does for you. For me, 45 minutes to an hour does the job. But as long as your body is moving, you are going to get the endorphins.
What advice would you give young women?
Make sure you are doing your research prior to jumping on a new trend. A lot of girls are looking at certain body types and certain influencers and striving to get that look or follow that trend. You have to be your own person. For all the young girls: Look at yourself, cherish your body, love yourself as you are. If you want to make improvements on your body, you are more than welcome to do that, and exercise is a tool to do that, but remember that real information is out there, and don't fall for anyone who is selling you a dream and not a reality.