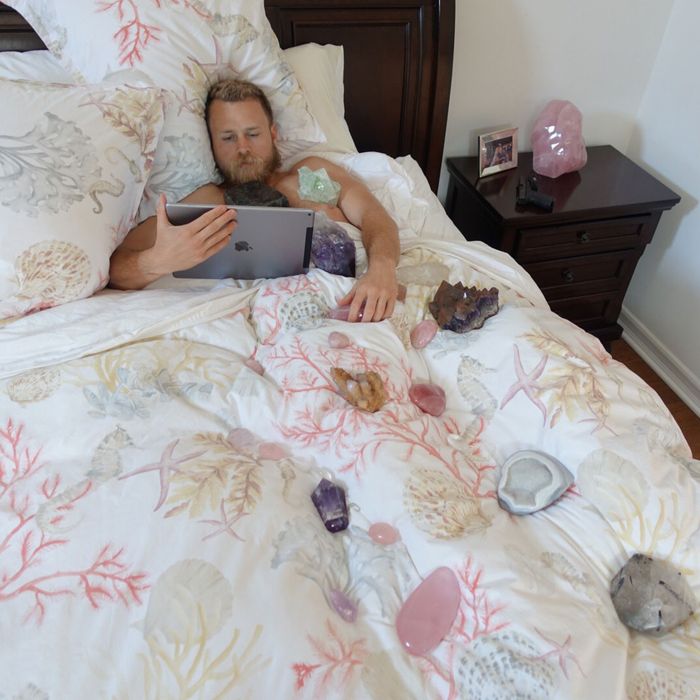 Photo: Courtesy of Spencer Pratt
The one thing everyone can agree on is that sleeping is important. Whether you're Snoop Dogg or Linda Rodin, everyone needs sleep to stay well. To find out how people practice this important tenet of wellness, the Cut is launching Sleeping With, a weekly questionnaire with interesting bedfellows about how they sleep, where they sleep, what they do when they can't sleep, and what it's like to sleep with them. Today we'll hear from Spencer Pratt: the celebrity-gossip enthusiast, Snapchat aficionado, and erstwhile star of The Hills.
My bedtime is: Typically 1 a.m. I would like to go to bed by 11, but it's never happened.
I like my bed to be: Cold.
In bed, I wear: Nothing. Heidi is really hot — like lava.
My sheets are: Always clean. Heidi is like the Four Seasons–housekeeping level.
Before bed, I unwind with: Wine. I like Brad and Angelina's Miraval. That's my new fave, 'cause it's like Brangelina. Also lately I've been eating the organic, non-GMO, gluten-free brownies Heidi makes for me. They're actually good. After the second one you forget they're healthy.
My favorite late-night treat is: Ice cream from Rori's Creamery.
When I can't sleep, I: Watch the iPad in bed, since Heidi won't let me have a TV in the bedroom. I just binge-watched Stranger Things, which was incredible. Now it's The Night Of, which is incredible. But usually I watch movies, because otherwise Heidi will get mad that I'm watching TV shows without her.
On my bedside table, I have: a Glock and rose quartz.
I sleep for about: Six to seven hours. The dogs always wake me up.
My craziest dream was: Finding a magical crystal cave and never wanting to leave.