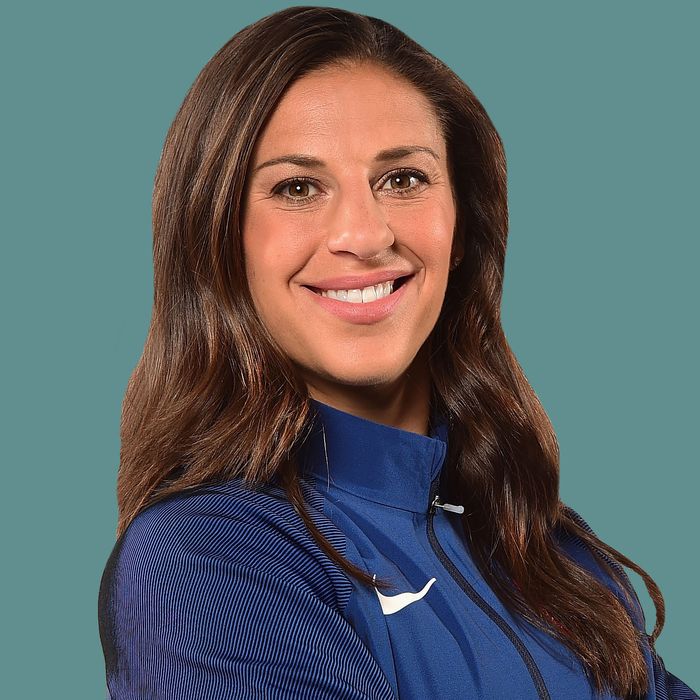 Carli Lloyd.
Photo: Getty Images
Carli Lloyd, 33, is a midfielder for the Houston Dash and co-captain of the U.S. Women's National Team headed to Rio. Lloyd blew the soccer world's mind when she scored the fastest-ever hat trick during the 2015 World Cup Final, helping to lift the USWNT to victory. She is a two-time Olympic gold medalist and was the 2015 FIFA Women's World Player of the Year. The New Jersey native talked to the Cut on behalf of Kind Snacks about push-ups, tough love, and the pitfalls of the treadmill.
How I start my mornings: Egg whites, some fruit and yogurt, and I usually mix in some Kind granola with that. Then I call my trainer James [Galanis], and we figure out a workout plan for the day. It's literally on the fly every single day. It depends what's going on in my schedule.
How I sweat: We'll do ball stuff. I'll spend time doing upper-body strength, body-weight exercises. I do push-ups and sit-ups, and I'll do the TRX. I'll do [battle] ropes, resistance bands, boxing. Anything that's not weights. James likes to say there are no dumbbells or barbells on the soccer field, so everything we do is soccer-specific. You need to be lean and agile, and the body-weight stuff works for me.
On so much running: I do up to 10 or 12 miles for some of my longer runs. I do sprints, too. I don't run on the treadmill because there's no treadmill moving for you on the soccer field. It's a worst-case scenario for me: If it's a blizzard and I have to get a workout in [I'll do it]. But all of my running is on the road or trail.
What I have for dinner: Chicken or fish, occasionally steak with sautéed veggies, zucchini, squash, some tomatoes.
How I recover: I think recovery is around the clock. Are you sleeping enough? Are you hydrating enough? Are you stretching? Are you eating well? Pretty much everything that I do is a reflection of how I'm going to feel on the field. I take great pride in getting in an ice bath after training and just taking care of myself.
How I treat myself on my day off: I like to get a manicure and pedicure and a sports massage and just hang out with my fiancé. I'm not a wild party animal who's like, "Woo, day off tomorrow. Let's go out to the bar!"
On sleep: I sleep better on the road than I do at home. I'm used to sleeping in a million different hotels. I'm not home very often, so when I get home I have things I want to do. When I'm traveling, I'm there for soccer.
How wellness has changed for me: Basically, my whole outlook on things changed when I met my trainer James in 2003. Before him, I had coaches who treated me like a rock star. I could show up, give 70 percent one day, 80 percent another day. I didn't have a coach who showed me any tough love and benched me when I needed to be benched. I just kind of cruised through and thought I was all good until I reached the highest level.
On enjoying severe pain: I like doing stadiums [running stadium stairs] and that type of thing. I like hill workouts; I kind of enjoy the burn. It's satisfying knowing that you're spending 15 to 30 seconds in severe pain and then you get to the top and it's very rewarding. Once you're done, you feel like you could run a lot more.
This wasn't enjoyable in the first few years or even halfway through my journey. I went from a player who was never fit to a person who actually worked hard to get myself in shape. Now I've become so mentally strong that whatever James tells me to do, whether it sounds insane to somebody else, I get through it and I do it. It gives me great satisfaction knowing that, most likely, no one else is doing what I'm doing.
This interview has been edited and condensed.