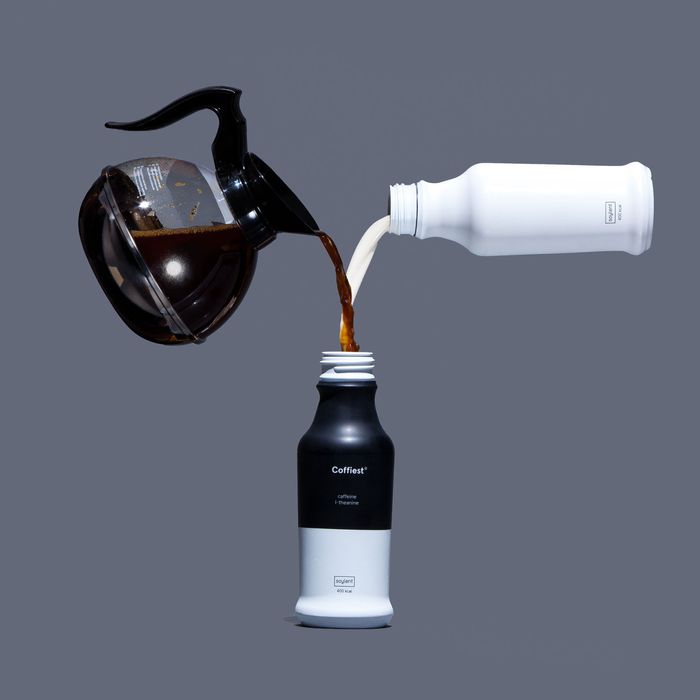 If you were waiting for coffee Soylent, your wait is over.
Photo: Courtesy of Soylent
Soylent today has taken the next step in the burgeoning field of biohacked food replacements with the release of a product it calls Coffiest. Half Soylent's preblended 2.0 mix, half "real coffee," it's the first time Soylent has put something normal people voluntarily ingest solo into its drink. Soy protein, algal oil "produced in bioreactors," the amino acid L-theanine, and the caffeine equivalent of about two cups of coffee round out the vegan ingredients, which Soylent says constitute 20 percent of your daily nutritional requirements and will make you a "breakfast pioneer." There's a "touch of cocoa powder" as well, possibly to remind people what they'd rather be drinking (Yoo-hoo, Nesquik, Ovaltine, etc.).
People who had, um, issues when trying to subsist on Soylent before are already pondering what sort of gastrointestinal havoc Coffiest will unleash. Founder Rob Rhinehart sort of describes it as a gateway Soylent targeting people too busy to eat breakfast, and thinks they'll love it because "It also tastes great!" He recommends consuming it cold, much like a person would enjoy, say, a Starbucks bottled Frappuccino.
And as far as the strange name goes, it sure seems like another sci-fi nod — this time to The Space Merchants, a 1952 classic about a world inhabited by "Chicken Little," a living hunk of meat that gets sliced over and over to feed the masses, and regrows each time. Coffiest plays a delightful role in this dystopia, as explained here by one of the characters, Harvey:
"Each sample of Coffiest contains three milligrams of a simple alkaloid. Nothing harmful. But definitely habit-forming. After ten weeks the customer is hooked for life. It would cost him at least five thousand dollars for a cure, so it's simpler for him to go right on drinking Coffiest — three cups with every meal and a pot beside his bed at night, just as it says on

 

thejar."
Subscriptions start at $37.05 a month for a 12-pack.