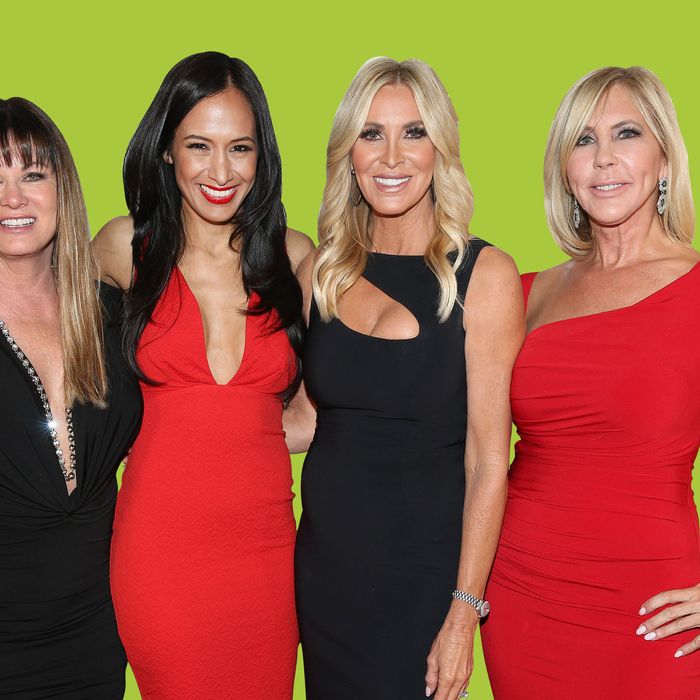 The Real Housewives of Orange County.
Photo: Getty Images
In the ever-evolving world of Real Housewives, friends and husbands come and go, but strong opinions on wellness live forever. The Cut parsed the lives of Housewives past and present to catalogue their take on how to live a "well life," whether it involves lamb stem-cell injections, drilling healing jewels into your teeth, or just pooping and pooping. Then, we ranked each city's efforts towards living a "well life" on a chia-pudding scale from one to five, where fives exercised the most militant takes on wellness and ones were a bit more lax.
Keep reading for a highly subjective rundown of which Real Housewives cast is the most wellness-obsessed.
New Jersey
Teresa Giudice
The Skinny Italian truth-teller found yoga during her stint at Locked Up: Connecticut. Haters will say her downward dog is only one-sixteenth as good as castmate Caroline Manzo's.
Jacqueline Laurita
Jacqueline finds wellness at the doctor, where she juices up on Botox and tummy tucks. She's not all needles and gore, though: a green drink or two is always around the corner.
Caroline Manzo
Caroline ditched coffee Godfather-style and replaced it with water and lemon. That and good old-fashioned portion control helped her lose 20 pounds, which she documented on the show.
New Jersey Housewives Chia Pudding Rating: 2. If wellness were a class, these Housewives would barely pass, but Teresa's about-face from flipping tables to sunrise salutations is commendable, to say the least.
Atlanta
Porsha Williams
Porsha Williams, a spirited cast member who thinks the Underground Railroad involved an actual train, discovered the poop panacea known as the colonic last season on the Real Housewives of Atlanta. She was encouraged by her Charlotte Russe shopping partner, Phaedra Parks, who held her hand during the treatment and thoughtfully encouraged her to poop on command. When Williams isn't letting it all out on the back end, she turns to Flat Tummy Tea to "keep things tight."
Phaedra Parks
It almost goes without saying that when you affectionately christen your butt a "Donkey Booty," you might also have a thought or two about pooping. As mentioned above, Phaedra likes to do it colonic style. Everybody knows it's what Southern belles do.
Kandi Burruss
Tiny mogul Kandi Burruss says she lost weight the old-fashioned way and not with a diet pill, thank you very much. In the past, she and "Old Lady Gang" founding member, Mama Joyce, touted the benefits of the Dramatic Weight Loss program. These days, however, it's just breastfeeding and Lyfe Tea that keep the pounds at bay.
Kenya Moore
Fitness evangelist Kenya Moore champions the benefits of exercising so much that she started dating her trainer. Better yet, she wrote a song about twirling, which any lunk worth their weight will tell you is the most grueling workout of them all. When she's not at the gym she's heralding the effects of Flat Tummy Tea. As they say in Atlanta, bless her heart.
NeNe Leakes
The original Atlanta housewife's recent blood-clot scare made her reevaluate her eating habits. Now she's eating reverse Gremlin-style, where she enjoys her first meal of the day at 3 or 4 p.m. Bread is off the table, but meat and vegetables are more than welcome.
Kim Zolciak-Biermann
Former Housewife Kim Zolciak-Biermann attributes so many things to her good health, and wow, weird, she shares them all on Instagram. She likes delicious shakes, for example, and Lyfe Tea, which gives her "energy." On the skin front Zolciak-Biermann is vocal about her deep appreciation of the Hydrafacial, and a little tummy tuck after the birth of her twins apparently went a very long way.
Sheree Whitfield
Sheree Whitfield, high priestess of "Who gon' check me, boo," exercises often to relieve stress. It is perhaps the healthiest Housewife wellness habit but also totally boring.
Atlanta Housewives Chia Pudding Rating: 2, because aside from a few fitness-fanatic outliers, occasionally dropping a deuce and drinking tea is hardly the paradigm of wellness.
New York City
Ramona Singer
Ramona may only work out twice a week (practically slovenly in Housewife standards), but her "crazy eyes" are a tour de force of fitness all on their own.
Luann de Lesseps
Countess Luann, self-appointed keeper of cool, begins each morning inverted. "I do a yoga headstand every morning," she once told People. "I don't do Botox. Headstands are great for getting the circulation going and giving tone to your muscles in the face." More important, yoga also keeps her sane.
Bethenny Frankel
Besides turning everything delicious and fattening into Skinnygirl fodder, Frankel is a strong proponent of yoga. Another hot tip? Treat your diet like a bank account, and try not to overdraft.
Sonja Morgan
On the most recent season of the Real Housewives of New York City, sweet Sonja dared to go where no Housewife has gone before and underwent vaginal rejuvenation on national television. When she's not resurrecting her vagina, she gets weekly acid peels, which honestly look like they really work.
Carole Radziwill
Carole does nothing (for wellness, health, fitness, or country), and that's completely unforgivable.
Aviva Drescher
Aviva's leg may be 50 percent fake and occasionally double as an assault weapon but her diet is clean and very Zen. "I love green juices. I won't drink diet soda, and I avoid pesticides and food with chemicals," she once said. "Did you know that every time you have miso soup in a Japanese restaurant it's from a can and filled with MSG?" Not really, but knowledge is power, as they say.
New York City Housewives Chia Pudding Rating: 3. Most humans are two-thirds water but these Housewives are definitely half booze. Yet a few found a way to pivot alcohol into a major business endeavor. Go figure!
Potomac
Karen Huger
Karen may be married to the "black Bill Gates" but her wellness approach is extremely analog. She can't get enough green juice, which just, wow, yawn.
Ashley Darby
Former Miss District of Columbia Ashley Darby lauds the wondrous fulfillment she gets in drinking lemon water. She also works out with the Peleton, which is a high-end indoor bike that costs a million dollars (or maybe closer to $2,000). You get to race against strangers in the virtual world, and chances are Christie Brinkley is one of them.
Potomac Housewives Chia Pudding Rating: 3 These Housewives only have one season under their belt, but here's to hoping for lots of Beyoncé-approved banter and bike rides in the future.
Beverly Hills
Yolanda Hadid
What doesn't Yolanda do for the sake of wellness? True to Housewives form, she undertakes frequent colonic trips to flush out "toxins," and you know, poop. When she's not using this very high-end method to do number two, she's getting blood transfusions and finding refuge in a hyperbaric chamber to alleviate symptoms of chronic Lyme disease. She gets cryotherapy treatments, too, and in the past has injected herself with lamb stem cells for some obscure reason. When you put all of this into perspective, it makes her Master Cleanse bout with Kyle Richards from a few seasons ago seem like child's play.
Lisa Vanderpump
Besides placating Yolanda with trips to the cryotherapy tank, the pink queen simultaneously walks on the treadmill while reading emails. They say the British are efficient but this is next level.
Kyle Richards
The last of Yolanda's cryotherapy victims, Kyle seems to ascribe to a school of thought that frequent yet random splits does a body good. Maybe! But a little shock therapy for the face seems to work well too, thanks for asking.
Beverly Hills Housewives Chia Pudding Rating: 3. At the end of the day, you have to admit that no one tries harder than Yolanda.
Orange County
Vicki Gunvalson
After dating an actual sociopath who faked cancer for reasons still unknown, Vicki Gunvalson, the "OG" of the "OC," hightailed it to a wellness retreat, where she practiced yoga and found nourishment in green tea and berries. Most recently she lost 22 pounds in a thinly veiled anorexia meal plan that she called a diet. Maybe don't try that one.
Tamra Judge
In the past two years Tamra Judge found God and the gym. After launching her own workout facility, Cut Fitness, she decided to step it up a notch and enroll in fitness competitions. Tamra's body is a temple and she worships there daily.
Shannon Beador
Shannon Beador attend the school of Hard Goop and took notes like an honor student. For starters, she regularly cleanses her poop track with colonics and enemas. Weekly visits to her doctor's office provide much-needed acupuncture and cupping treatments. Her teeth are encrusted with bits of healing jewels — and that doesn't sound ridiculous at all. But Shannon is not selfish. She hired a "green consultant" for her home to banish toxic elements, which of course, includes WiFi.
Gretchen Rossi
To stay in shape, former Housewife Gretchen Rossi plays a game of hide-and-seek with herself. She strategically places weights throughout her home to remind herself to workout.
Orange County Chia Pudding Rating: 5, because wellness is an art and Shannon, who carries the group, is Picasso. Vicki has a long way to go before cleansing herself of the great fake cancer-gate of 2015.