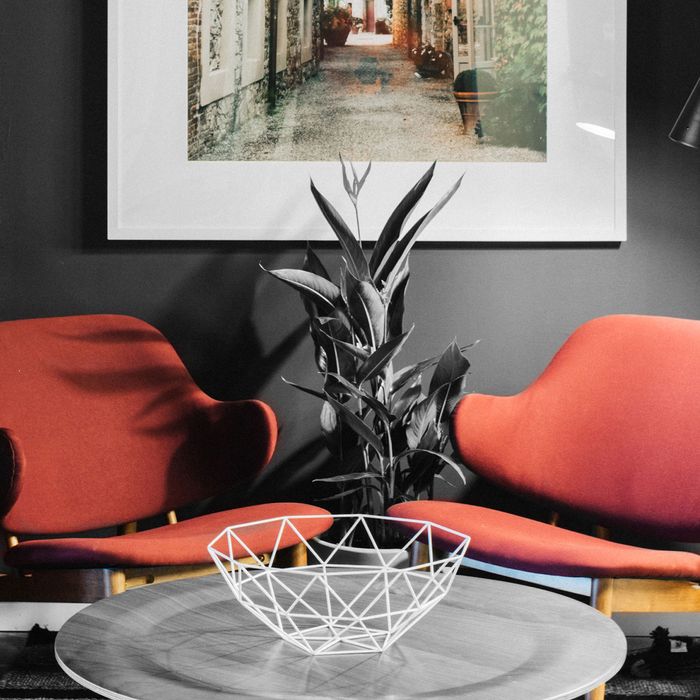 Photo: Courtesy of Primary
The Primary offices smell like flowers. I can't identify what kind of flowers, but something nice and sweet, which I note to the company's three founders as they give me a polite tour of their newly opened co-working space. "The first touch of greenery you get is this moss wall when you walk in," co-founder Danny Orenstein* explained with pride. A young man sat grinning at a desk behind the moss wall. Soft jazz completed the air of calm. Was this a yoga studio with co-working or a co-working space with a yoga studio?
Primary, which opened in the Financial District in June, is an office space that aims to incorporate wellness into work, the latest trend in alternative offices. Co-working spaces and gyms already exist all over the city, so they might as well join forces, the logic goes. Primary is for the small-business owner or freelancer who also puts a premium on staying fit.
Co-working spaces aren't new — Orenstein and and co-founder Lisa Skye Hain were part of the original brain trust behind co-working giant WeWork in 2010 — but the idea of incorporating "wellness" into alternative offices has taken off only in the past several months, at least in New York. There is New Love City, a yoga studio meets workspace in Greenpoint, and the forthcoming High Court in lower Manhattan, which prides itself on being a multifaceted third space for those interested in intelligent leisure like yoga, meditation, and matcha. Yet the marriage is an obvious one in some ways: We're spending too much time at work, leaving less time to get to the gym and home, we're trying harder and harder to find ways to multitask. We can't have it all, but we'll be damned if we don't try.
There have always been gyms at high-end office buildings, and exercise-ball chairs, treadmill desks, and computer timers to enforce frequent breaks are increasingly common ways of trying to make our office lives happier and healthier. Co-working with a side of "wellness" is the natural next step, an attempt to streamline when freelancing, gigging, and entrepreneurship are the norm for more and more people.
At Primary, which offers shared desks, dedicated offices, and glass-walled conference rooms to members paying from $300 upwards a month, added bonuses include yoga classes, low-impact workouts, and guided meditations. Brian Hain, Primary's chief wellness officer, explains it this way: "Nobody is required to stop, drop, and do yoga, but the idea is that at 3 o'clock, organically and naturally, people who have not made it a discipline or rigorous commitment to incorporate wellness into their lives, have that opportunity. By virtue of being in the space they see, 'Oh everyone is meditating at 3 today.'" And that, he says, helps incentivize the lazy to do the same. The space offers more than 30 classes a week, while the café sells "ambient bowls" — think quinoa, avocado, roasted corn, arugula — and espresso drinks and juices.
Natalie Kathleen, a co-founder of shoe company the Jibs Life and one of the first members of Primary, said she sets a reminder on her computer for when it's time to go to yoga or meditate. "I don't stop [working] all day. I think I also close this place out. I was here till 2 a.m. on Monday," she said, so it's especially important to set aside time for fitness breaks. Hain, the space's wellness officer, also knocks on her door to remind her to step away. "I'm like the fitness fairy," he said.
In some cases, the office-fitness studio partnership has started from the other direction. In D.C., Flow Yoga Center recently began offering a membership coworking space. A monthly membership costs $90, roughly the same as a typical yoga studio, but includes ergonomic seating (on the floor) and handstand breaks for the brave.
The trend of "co-working out" has even gone as far as finding a home in traditional gyms. Equinox has begun building out communal spaces with Wi-Fi and outlets for people to work in. Life Time Fitness, a chain of 121 gyms across the country, has conference rooms and business centers. Kerry Sutherland, the senior general manager of Life Time Fitness, put it this way to The Wall Street Journal: "Coffee shops and health clubs have long aspired to be the 'third place' people go after home and work. Now, people are taking that third place and turning it into their second place."
The risk, though, is that like Google's copious free food and campuslike culture, "wellness co-working" is just another trick to push the already overworked into working more. Most workers aren't likely to win shorter or more flexible hours so they actually have time to do their jobs, then leave work and go to the gym or do whatever they see fit with their free time. Having everything at the office encourages people to slyly tack on more hours than they think they're working, blurring the line between on- and off-time ever further.
"When you're taking care of yourself and making yourself the primary focus, all parts of your life are more successful," Orenstein said. "There have been a slew of studies that have shown that when you're well in your mind and your body, you're more productive. There are lower absentee rates at work."
"Our hope is that people will be more productive in their time here," he added. "We hope that in the extra hour that they would have lost in their commute, or in going back and forth to the gym, they can work and have that experience and really capitalize on the time that they have at home."
*This post has been corrected to reference Danny Orenstein, not Dan Reilly.